Meet Heather
Welcome to my little home on the Internet. I am so happy to have you here! I am a Labor and Delivery RN, a wife to an incredible man, and a mommy to the most wonderful two little boys.
I started A Life In Labor to help young mommies live their best life as mothers because — full disclosure — being a mama is SO HARD.
A mother's labors surely don't end in the delivery room. We carry our babies through pregnancy and labor, the grueling newborn stage, and the terrible twos. We breastfeed, we sacrifice sleep, we forget to eat, and we still manage to pull ourselves together to get out of the house and keep our homes beautiful (some of the time).
Moms are the glue that hold our families together by maintaining our marriages and keeping the house together all while ensuring our babies make it to bedtime in one piece.
Mom-ing really requires some super human strength right from the start and that is why I chose to create a positive, uplifting, and informative space- so that we can band together and be each other's tribe. The kind of tribe that I was so desperately searching for when I was going through some of my most trying days as a mother.
I've made it my mission to write everything down and be as open and honest with you so that you can learn everything I have to give from pregnancy through toddlerhood.
I want to help all of you mama-super-heroes get through some of the tough, exhausting, and straight-up messy times by learning from my mistakes, my trial and errors, and my successes. Meanwhile, harnessing the awesome moments that our little ones bring to our lives.
Seriously you guys, it has been a dream of mine for a long time to create a space where I can connect with other mamas and help you all get through the labors of motherhood with grace. And it has finally come to fruition! Thank YOU!
The Back Story
Over the years, God has lead me to my passion and my purpose through the most wonderful and sometimes completely unexpected path. I knew early on in my education that I wanted to be a nurse. I knew that my heart was meant for helping people but I didn't know much more than that.
After graduating college with my BSN I had the motivation and drive of a…well, a fresh graduate. I applied to every hospital, every unit, in every city in my surrounding area. Who hired a fresh, little nurse like me? I'll tell you who. The city jails. Yep, I was a jail nurse before anything else. But guess what? That was exactly the motivation I needed to walk my heinie right into the director's office of my dream hospital's Labor and Delivery unit to turn my resume in by hand.
Labor and Delivery quickly became my passion. I couldn't get enough. Every mom, every baby, every delivery moved me. No matter how many times I saw it, no two birth stories were ever the same and I was hooked. I want to do this forever. I thought, "This is definitely it. God wants me here."
When my husband and I decided to start a family, I wasn't scared. I thought I knew it all. I thought, "I am totally prepared for this" (hilarious, I know). I was a HOT MESS. Pregnancy was not what I expected, labor, delivery, having a newborn, being a MOM; all of it was foreign ground and all of my confidence flew out the window at jet speed.
What helped me get through my struggles the most was actively spilling my heart and soul out with other mothers going through similar trials. It really does take a village to raise children and I just so happened to find a really great village online.
Even though it was the hardest thing I'd ever done, I loved becoming a mother. I knew, now THIS is my purpose.
It never mattered whom I was talking to or what we were talking about, some aspect of motherhood always came up because I could not stop talking about it.
Being a mom is my most-favorite thing ever– even when it is the hardest and most confusing thing ever.
One day, my husband and I were pushing our stroller down Main Street at the local outdoor mall and we noticed another mom with a stroller carrying a much younger baby. I smiled at the mom and my husband noticed. He said something that changed me. He said "It's like moms have an unspoken connection where they know what each other is going through with just a quick glance. It's like they have to say 'Hello'. Moms are just…connected".
And so here I am. Connecting with you.
On a personal note
---
I met my amazing, loyal, and forever supportive husband, Dean when I was only 16 years old and a junior in high school. I know it now just as I knew it then –this man is my soul mate. We dated for eight years before we got engaged.
We had a quick six month engagement before we had our dream wedding in 2014.
In 2015 we bought a cute little house near our home town and we've been making it a home ever since. In 2016 we got pregnant and had our sweet son, Logan- my inspiration to start this blog.
Motherhood was a shock and as things became easier for me, I had an undeniable pull to help new mothers like you get through the same struggles.
All while growing this business and raising my son, I longed to grow my family as well. After two consecutive miscarriages, I had my rainbow baby, Elliot. He has brought more joy and lessons to my life than I could have ever imagined.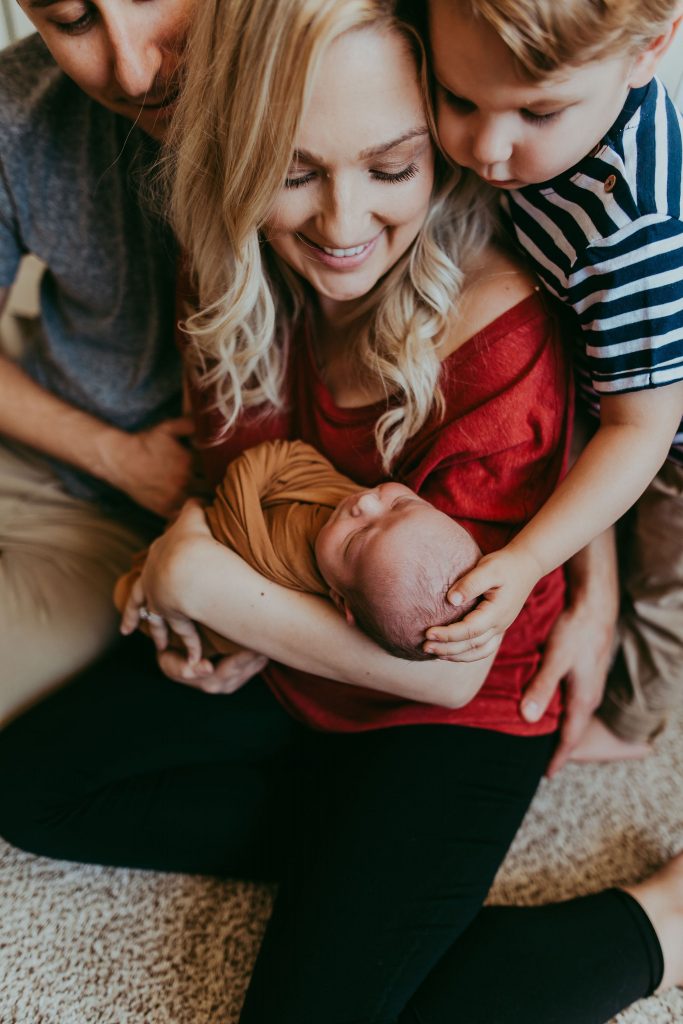 Our blessings are abundant and we have our Lord and savior Jesus Christ to thank for that. Join me as our story continues and please, please, please share your story with me! I can't wait to hear it!
If you want to know more about me or my site, I would love for you to reach out! Find me on instagram @alifeinlabor and subscribe below to get my weekly pregnancy, labor, and new motherhood tips, hacks, and advice.