Looking for how to prevent diaper rash? I'm proud of you. I'm especially proud that you're not currently searching for how to treat it but instead, how to prevent it. What that means to me is that you're either ahead of the game and you realize that diaper rash is something that most moms have to go through at one time or another so you might as well get prepared now OR you have experienced the wrath of a bad rash and you never want to go through that again. Either way, you go girl.
If you never want to open your baby's diaper and see that soft little baby bum covered in blisters, red splotches, or a red area that looks legitimately like a bright red map of the world again, keep reading.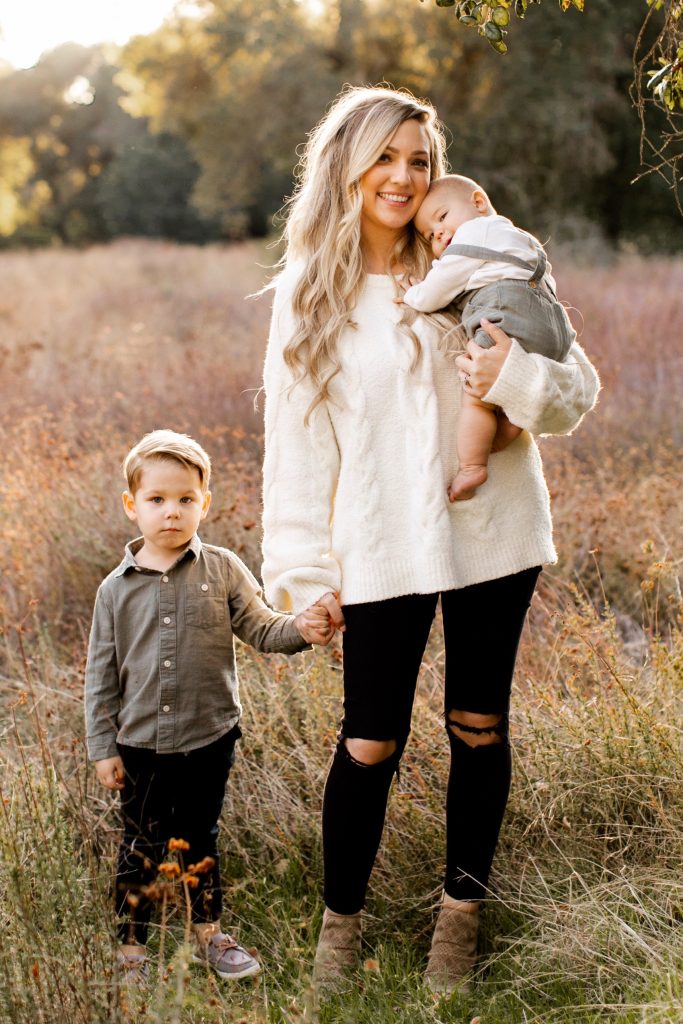 The following is a sponsored post written on behalf of Eco Pea Co. All opinions are my own.
This post may contain affiliate links. Learn more here
Please note: The views on this website are personal opinions only and do not represent the opinions or policies of any provider or institution that I am affiliated with. I am not giving medical advice. Information on this website is not intended to diagnose, or treat any form of any disease. This article is for informational and entertainment purposes only. I am only telling you what my experiences are. Please refer to my Disclaimer Page for more information
What is Diaper Rash?
Diaper rash is tricky. Some babies are more prone to rash than others and some parents struggle with treating and preventing diaper rash more with one child than they do with another. Either way, it's always difficult to see your little one uncomfortable.
Unfortunately, diaper rash is really common. It's basically a red, tender-looking nether region that can usually be treated at home and most likely isn't as bad as you think it is. Treat the thing and it goes away. The real trick though? Preventing diaper rash in the first place.
What Causes Diaper Rash?
When you open up your baby's diaper to find bright red, blotchy skin, it's natural to wonder not only what it is but also what you did or didn't do to cause it.
Don't beat yourself up too much though mama, because every new mom encounters this dreaded day a time or two.
Diaper rash typically rears it's ugly head when your baby's bum has been frequently exposed to substances that are irritating to their sensitive skin. Sources of irritation can include:
Stool and urine – If your baby's bum has been exposed to a wet or dirty diaper for prolonged periods of time, both stool and urine can irritate their sensitive skin.
A new product – Your baby may have a reaction to any new chemical Or combination of chemicals that you introduce to their skin. You may actually be exposing your baby to more harmful chemicals than you realize including your baby wipes, disposable diapers, laundry detergent, soap, and even barrier creams.
New foods – If you have introduced new foods to your diet while breastfeeding or to your baby's diet once they start eating solids, you might notice a change in their stools. This change in stools might lead to some skin sensitivity.
How Can I Prevent Diaper Rash For My Baby?
It's a whole lot easier to prevent diaper rash than it is to treat it, let me tell you. If you can take these five simple steps to prevent diaper rash, you'll be glad you did when your bestie tells you horror stories of the angry, red blisters on her baby's bum that she had to treat with baking soda and apple cider vinegar before they finally settled.
These simple but effective strategies will help decrease the likelihood or frequency of diaper rash in your sweet new babe.
1. Change diapers often
Remember that one time when you were preparing for your new baby and you swore that the frequent diaper changes weren't going to get to you? Remember when you promised that you'd change the diaper every time it got wet? Oh yeah, and that other time that your partner said that he would be the diaper king?
Yeah, I remember too.
Well, things start to get real when you're literally changing a diaper every hour or two throughout the day. It can be rough.
Although it's a lot of diapers and therefore a lot of money getting thrown into the garbage, it is important to keep up with the task to prevent diaper rash.
To make it easier on yourself, get a diaper that has an indicator strip on the front so that you always know when your baby has peed and therefore may need a quick change before you move on to the next task of the day.
Eco Pea diapers have a yellow line that turns blue when wet, letting you know that it's time for a change.
2. Clean baby's bottom with non-toxic and gentle wipes
Who knew that all baby wipes were not created equal? I had no idea how many chemicals and added nonsense were in most baby wipes on the market. These ingredients can lead to more irritation on your baby's back side than just leaving the mess to begin with! Can you imagine? Cleaning your baby's tushy hoping to avoid a rash caused by urine and feces only to find out that the wipe was the culprit?
Frustrating to say the least. But there are a number of ways to avoid this hurdle.
First and foremost, avoid baby wipes with alcohol in them as it can irritate the skin. Always choose mild, fragrance-free wipes that are mostly water.
Second, rinse your baby's bottom with warm water when there's a mess. Instead of scrubbing your baby down with 15 wipes and a furrowed brow, take that little nugget to the sink or the tub and use a squirt bottle to rinse baby's hiney with some warm water to clean up and avoid irritation.
3. Give baby a moisture break
The key to preventing diaper rash is to keep the area dry.
After cleaning your baby's bottom, it's important that you let it dry before putting a new diaper on. Gently pat the skin dry with a soft, dry cloth and then you can even let it air dry for a while if you have the time.
Every baby-diaper rash or not, needs a little bit of air time every once in a while. When it's feasible, I highly recommend allowing your baby to go naked for a bit to give the area where the sun don't shine a little bit of a diaper-break.
I know that you're a busy mom; most of us are. So the idea of letting baby run around naked sounds more inconvenient than helpful, right? So since your baby is going to be wearing a diaper most of the time, make sure that you are using a diaper that is breathable to allow some air flow to the area. The more breathable the diaper, the less likely you are to have to deal with recurrent diaper rash.
4. Don't over-tighten diapers
Tight or inappropriately sized diapers prevent airflow to your baby's skin. This type of dark, moist environment is a breeding ground for bacteria and yeast.
Diapers can become too tight if you are using the wrong size. It's important to use the weight recommendations as a guideline, but not a rule. Babies are all shapes and sizes, and two babies that weigh the same may need different sized diapers. Test out a couple of sizes to get the perfect fit for your baby.
Also, keep in mind that diapers of lower quality are also more likely to cause chaffing of your baby's skin.
5. Pick the right diaper
I'll be honest with you, this is the most important piece of the preventing-diaper-rash-puzzle. The diaper you choose will be a huge factor when trying to prevent diaper rash on your baby's sensitive skin.
I'm using Eco Pea Co. diapers for my baby. The big seller for me was that Eco Pea Co. avoids harsh chemicals, perfumes, and detergents in their products and they are 100% eco-friendly and biodegradable.
Not only are Eco Pea diapers Chlorine, Phthalates, Dioxin, Alcohol, Latex, and Fragrance free, the are also naturally hypoallergenic and antibacterial. And guess what's the kicker? They actually work! They are absorbent, breathable, and flexible for the perfect fit and increased comfort for my baby.
Eco Pea diapers are made from biodegradable bamboo. Have you ever used a bamboo bath towel or blankets for your baby? They are SO soft. Well, in a diaper, not only is bamboo a comfortable choice, but also super-absorbent and moisture wicking.
As a bonus, Eco Pea Co. adds a natural aloe layer to heal and nourish your baby's sensitive skin.
Picking The Right Diaper
When you pick a diaper that really works for your baby, you're going to be able to prevent diaper rash in multiple ways.
The right diaper will:
Be absorbent enough to keep harmful urine off the skin as much as possible.
Fit snuggly enough to avoid leaks but not restrict air flow to the area.
Not be filled with toxic chemicals such as Chlorine, Phthalates, Chlorine, Dioxin, Alcohol, Latex, or fragrances.
Will be Hypoallergenic to avoid allergic reaction on baby's skin.
Remember, choosing a good diaper won't be the ONE THING that prevents diaper rash. But it will certainly help. You're still going to want to change your baby's diaper frequently, give your baby some naked time, and use quality wipes as well.
Next Best Thing To Cloth Diapers
Listen, we all want to do what's best for our babies (and the planet) right? I do, and I know that you do too. If you've been considering cloth diapering but you are intimidated and overwhelmed at the thought…well, girl, me too.
Wanting to give my babies the most natural, healthy option in every area of their life has been quite the project. You too?
Well, I just couldn't make the switch from disposable diapers so, instead, I had to find the most natural option that was good for my baby's sensitive skin, comfortable on their bottom, effective enough to prevent leaks and keep them comfortable at night with little environmental impact.
So, if you do not want to switch to cloth diapers because you need a little more convenience and effectiveness, go ahead and try Eco Pea Co. They are made from natural products (bamboo), are biodegradable, and better for the environment than other disposable diapers. And like cloth diapers, they are free from plastic and latex that can cause allergies that mimic diaper rash in babies.
Help Prevent Diaper Rash
In my family, choosing quality diaper and wipe products was a game-changer. We've tried all of the popular diaper brands but I always had an issue with leaks, irritation, or worse – diapers that feel like paper. I'm so glad that I found Eco Pea Co. for all of my diapering needs.
My baby is already walking around, getting into everything and I still feel like a quality diaper is essential. With Eco Pea's durable tape that stays in place and doesn't tear and the flexible sides that conform to movements, I feel like no matter how quick he gets, these diapers are able to keep up.
Although using high quality diapers can be expensive, it's not something that I am willing to skimp on anymore. I've found that buying bundles helps with cost and convenience and it makes a world of difference in our household.
I encourage you to try Eco Pea Co. Diapers today. You'll love the softness, the effectiveness, and the quality. Oh, and your baby will thank you when her bum is no longer so angry.
This is a sponsored post written on behalf of Eco Pea Co. All opinions are my own.
What To Read Next: