Baby Must Haves For The First Year: Baby Products Experienced Moms Swear By
Alright mamas, before I dive right into the best baby must haves for the first year, let me tell you something. I am so excited for this post. Is that weird? Before I even started this blog, I was passionate about this post. This is because I had no idea what I was doing when I was preparing for my first child's arrival. I knew that I needed to share my favorite baby must haves once I figured out what I actually needed and what actually worked. Trust me, I was writing a baby-must-haves checklist well before my blog ever existed.
Create A Registry Full Of Baby Must-Haves
I remember scouring the internet for baby must have checklists, product advice, and tips on what to register for. Even when I found really great resources, I was still lost! I'm sure you're feeling the same way.
I felt like everything was so general. Yeah, I knew that I needed burp cloths but are some better than others? I knew I was going to need pacifiers eventually but what brand? Why? Do I really need a wipe warmer? All the checklists in the world could not have given me clarity.
I am giving you all the goods and not holding anything back because you deserve to have everything you need (and nothing you don't) when you are soaking in all of the newborn goodness.
If you're awaiting a new baby's arrival, take my advice and prepare now because your new-mom sleep deprivation will make you not want to go to the store for any reason what-so-ever. Especially not in the middle of the night, and especially not because you just changed your mind about being anti-pacifier mid mental breakdown…but that's beside the point.
Download Your Free Baby Registry Must Haves Checklist
To make your life easier, I've created a FREE printable baby must haves checklist for you to download and print out now! Take it with you when you register at the store, or even better, use the PDF version to register through my links that I've included in the checklist. This will take you directly to the products that I recommend where you can instantly put them on your registry. I wish I had something like this when I was registering for my first baby, seriously, I've made it so simple for you.
Subscribe to my mailing list below to get the instant download.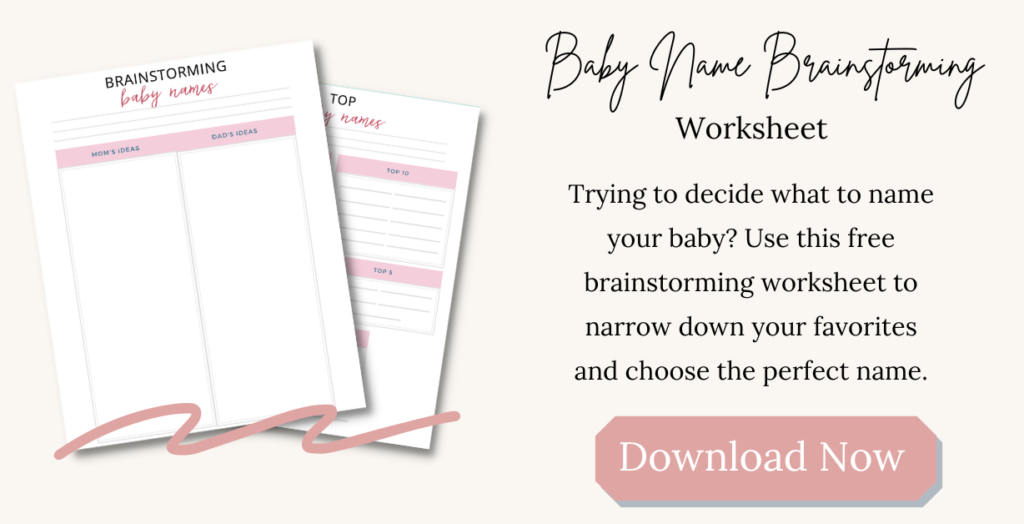 This post contains affiliate links. To learn more, you can read my full disclosure here.

Here It Is: The Best Baby Must Haves For Your Registry
I'm going to list and describe some of my absolute favorite baby must haves, but to see the complete checklist, download the Free printable Ultimate New Baby Checklist here.
Create Your Baby Registry
Using Amazon Baby Registry is the only way to go. If you want to register at a physical store, I suggest the Target Baby Registry, but you MUST also have the amazon baby registry on top of it. Amazon has almost every baby must have that you can possibly desire for your new baby and if you can't find what you want on Amazon, they make it easy to add items from any site that you like to shop from.
You really can't go wrong with Amazon Baby Registry. With your Amazon Baby Registry, you will get a completion discount of 10% off across amazon.com or 15% off if you are a prime member!
Baby Must Haves
I've separated my favorite baby must have items by category to make things simpler. All are important so make sure you get through the whole list!
The Obvious
Diapers– I'm all about pampers. They are the softest and the only ones that I trust with a 3 month old's poop explosion. That's some serious trust right there. (P.S. Yes, Honest diapers are so stinking cute, but they feel like paper)
Wipes– Pampers has finally come out with natural wipes. Thank the Lord! I was using Water Wipes, but now I'm tempted to switch to Pampers Pure. If you're wondering why pampers, I just have to tell you, Huggies wipes rip so easily! I was always frustrated with Huggies wipes because every time I tried to pull them out of the warmer, they would shred. Fair warning.
An Amazon Family Membership (or Amazon Prime Membership)- Yes, I am telling you to prepare for motherhood by signing up for an Amazon Family membership. It's essential. With family, you get 20% off all your diapers all year long, plus exclusive coupons and deals specific for families and exclusive baby registry benefits.
Nursery
Video Monitor– Some people still tell me that they don't have a video monitor and it blows my mind. It gives me such peace of mind to just glance over at the monitor when I wake up in the night and I can see that he's sleeping peacefully. This one has a portable monitor and a feature that I absolutely couldn't live with out- believe it or not, is the temperature indicator. I always know how hot or cold it is in my son's nursery.
Mobile– I'm not really into the dramatic, bright, loud mobiles. I bought a very simple, understated mobile that my son absolutely adored! It was one of my favorite purchases for his nursery and it didn't have lights or sounds. Shocker.
Glider/Rocker– I think I bought one of the simplest gliders on the market and I've never wished for anything more. You really don't need anything fancy. Just something comfortable that'll last you for years to come.
Diaper Pail– Ubbi all of the way. It's metal as apposed to plastic that absorbs all of the poop smell. AND it takes regular trash liners. No special liners? SOLD!
Wipe Warmer– It's debated, but I like having one. Having warm wipes for a newborn is pretty important unless you want a screaming baby in the middle of the night. As time goes on, you wont need it anymore so you'll just have to turn it off and use it as a convenient and cute place to store wipes on top of the dresser.
Soothers/Comfort
MAM Orthodontic Pacifiers– These are the ONLY pacifiers that I will even say one good thing about. I hate all other pacifiers (that I tried) with a deep fiery passion. You know those cute little ones with the animal hanging off of it? My son usually just gnawed on the arm of the elephant and they did me no favors. I tried the ones that are supposed to be breastfeeding friendly and they would just pop out of my baby's mouth in two seconds. These ones were the only ones that made my little guy happy, I would recommend buying a few…like two for the diaper bag, two for the house, and two for the car/stroller. Just sayin'. Also, there are sizes. So if you want to be extra prepared, register for a couple larger sizes too.
Lovey– Any lovey will do, but this is one that I liked and that I gifted to a friend whose son loved it too. I swear, I think that having a lovey made crib sleeping, weaning off breastfeeding, and weaning off the pacifier easier for my son. Having a lovey to snuggle with made it easier to give other things up. I never had to do any traditional sleep training because we gradually just started taking things away (like the pacifier) and handing him his lovey instead. It's basically just a small blanket with a soft stuffed animal on an end. In my opinion, it is an absolute essential item on any baby must haves list.
White noise machine– THIS IS THE SINGLE BEST PURCHASE I EVER MADE IN MY LIFE. Ok, this might be an exaggeration, but only by a little bit. I freaking love this thing. One time, we were on vacation and there was a split second when I thought we had forgotten his white noise machine and I nearly had a heart attack. It's adorable, the volume can be adjusted, it is also a nightlight where the brightness can be adjusted, there is an option to project stars on the ceiling (which we started using and LOVING when our son was about 9 months old), and you can choose the length of time for which it is on (including infinity, which is the obvious choice). I couldn't have survived Logan's first year without this $40 piece of plastic.
Snuggle Me Organic– I never thought I was going to co-sleep with my baby. Seriously I believed that he would just go down in his bassinet all perfect and sweet and be fine. News flash, he didn't. We co-slept. But I didn't want my baby to sleep just in my bed, he needed his own space. This is the perfect co-sleeper for a small baby. It's soft, breathable, and perfectly snug for a baby that loves to be held. You might not think to put this on your baby must haves checklist because you think that you won't need it…but when you do, come back and comment. ?
DokATot Baby Lounger– It took a lot of "Why won't my baby sleep" forums before someone suggested the DokATot for me. It was totally worth the money. By the way, it's not ONLY for co-sleeping. It can also be used for transition to the crib, naps on the couch, or travel. To give them even more points, DokATot is easy to clean and made from completely non-toxic, breathable material. Yes Please!
The Miracle Blanket Swaddle– So, I have two favorite swaddles. This one is for the cooler nights/days when your baby doesn't have to be very bundled up. It's light weight but sturdy. My baby was a Houdini and was really freakin' good and breaking out of swaddles. So this one was a life saver.
The Halo Swaddle– This one was the most comfortable, snuggly, warm swaddle I found. When I put Logan in his Halo swaddle, he instantly would calm down and relax. He loved this thing! P.S. Don't rely on just having one swaddle because if it gets dirty (spit up in their sleep much?) you're going to feel like the sky is falling if you don't have a back up.
The Magic Merlin Sleep Suit– Another one of my life savers. Love, love, love. Logan grew out of swaddling when he was about four months old because he was rolling over in his crib. Once your baby starts to roll over, swaddling is no longer safe. But that doesn't mean their startle reflexes are gone. They are still there, waking your baby up in the night and driving you mad. I wish I had found this sooner! Its thick and almost seems weighted (it's not) and it gives just enough pressure on baby so that they feel secure like they did in their swaddle but it is much more difficult to roll over in than a swaddle. Still, when your baby grows and is eventually able to roll over in this thing, you'll need to move on to sleep sacks.
Halo Sleep Sack– The perfect transition out of swaddling to jammies-only sleeping. This was one of those things that I didn't think I needed until I needed it. Logan thrived off of his routine and when I stopped putting him in a swaddle or sleep suit as part of it, things went a little wacky. It was basically just a replacement for the part of the routine where I would usually put him in his swaddle. It doesn't help with reflexes or even hold them tight, it's basically a blanket that zips up. He loved it, and so did I. I suggest that you buy a couple light weight cotton ones, and one or two cozy fleece ones for winter.
Pack N' Play– If you have a two story house with the bedrooms upstairs, this is a MUST. I had no idea what a wonderful purchase this was going to be when I bought it but it quickly came to the light. No recovering postpartum mommy wants to walk up and down those darn stairs a million times a day to change diapers or put the baby down to sleep. This sweet spot is all- in- one. It's totally the way to go.
Mamaroo– I didn't have a Mamaroo, but every time I saw how wonderful they worked when I went to a friend's house, I really wished I had one. They really do seem like magic, don't they?
Babies get bored of experiencing the same thing all day every day just like we do. Different stimulation throughout the day can keep your baby happy and alert during awake times. In order to keep my grumpy newborn happy, I had a bouncer in the kitchen to put him in when I was cooking or cleaning and a swing in the living room for when I was folding laundry or tiding up, or in my bedroom to strap him in when I took a shower and got ready, et cetera, et cetera. I loved the way it worked for us, but I guess it's not absolutely necessary to have all of them.
Linens
Aiden and Anais Muslin Blankets– Truly, any muslin blanket will probably be fine, but these are my favorite. When we started to give my son a blanket to sleep with, it was only these. Muslin is finely-woven breathable fabric. From the company's mouth itself, "The open weave and lightweight fabric of muslin allows for airflow, reducing the risk of overheating. This quality helps keep your baby comfortable and safe, resulting in your peace of mind." Yaaass. We used them for swaddling, covering the carseat, nursing cover, burp cloth, seriously the possibilities are endless. And when you're a new mom, "multi-purpose" is music to your ears.
Burp Cloths– Don't get the small ones. Don't get the small ones. Don't get the small ones.
Travel
Britax Carseat and Stroller Travel System– I loved my carseat and my stroller. I had not one single issue with either one. I used the carseat all the way up until my son was about 14 months old and 26 lbs. Up until then, Logan loved his car seat. It was comfy cozy and he fell asleep in the car almost every time we left the house. The stroller is also great because it was the easiest stroller in the world to fold and unfold. That's like GOLD. Another perk, they attach to each other effortlessly! No need for any fuss in and out of the car.
Backseat Mirror – This was a last minute purchase that I was on the fence about. I guess I wasn't sure that I was going to need to see my baby as we drove? I'm not sure what possessed me to think that because now if the mirror is tilted a little bit and I can only see 95% of him, I freak.
Baby Carrier– This one is the only way to go. Its ergonomic, its safe, its comfortable, and it's cute. I love mine. We never went anywhere without it.
Baby wrap– There are so many options for baby wraps and I'm sure most of them are pretty similar. This one is the one I would choose because it's comfortable and easy to use. You can start using it right away after your baby is born and tote that little squishy baby around your house all day long. I didn't realize that I should be using my wrap until about 3 months in when I realized that things could have been a whole lot different if I just broke that bad boy out sooner. I wish someone had really made it clear to me that this was extra-important to check off of my baby must haves checklist before I suffered for months without it.
Diaper bag-We went through a couple fails before we found this one. One was too big and floppy, the other too narrow. This one is perfectly functional for newborns and toddlers. Bonus, it's extra cute for Mom and Dad.
On-The-Go Changing mat– I used/use this ALL OF THE TIME. Convenience is key y'all. And no one wants to put their baby on the floor, risk getting poop on someones couch, or put them bare butt on a changing table in public. You will use this a million times.
Stroller Organizer– Do people even use their stroller without an organizer? I can't imagine it. Where would you put your Starbucks cup, keys, chapstick, the pacifier, and two extra burp clothes for handy reaching? I'm confused. Just get one.
Play Time
Don't worry too much about toys. You wont know what your baby likes, wants, or needs until you get to know her. I have some recommendations for you, but most don't belong on your registry. There aren't many toys that are necessarily "baby must haves". You know? Some of them are cool or nice but "baby must haves" are on a different level. Here's what totally belongs on your registry:
Activity Mat/Gym– Honestly, we used this every day for months. Newborns love to stare at colorful things and when they start to learn how to swat the toys above their head, you will squeal with excitement more than you ever thought you would.
Animal Rocker – Logan has grown to love his rocking horse more and more all of the time He started sitting on it when he was 4 months old (no I'm not kidding, the picture is proof), and started getting on it by himself when he was 12 months old. It was a really great gift and it was personalized with his name on it! Definitely one of my favorite things in his nursery.
Teethers– I have a couple favorites like this one and this one. But if I'm totally honest, babies usually are perfectly happy chewing on anything that fits in their mouth. A frozen washcloth will do the trick. Oh! Actually, this one was actually one of his go-to's when his gums were hurting. I guess my only real advice for teethers is not to go overboard. Just Register for a couple good ones and remember that worrying about frozen tethers are a waste of time and energy that you absolutely wont have.
Feeding
Bottle Warmer– This one is really good. You can stick a bottle in there or you can defrost a bag of breastmilk. It works either way. My husband usually just stuck the frozen or partially defrosted bag of breastmilk in the warmer and then transfered it to the bottle when I was working. Easy- peasy.
Hospital-grade double electric pump– Some health insurance will give you a breast pump absolutely free. But if your insurance doesn't provide one or if they only lend you one and you have to return it, it just isn't worth it. You might as well buy one, like I had to do. I absolutely loved my Madela pump!
Breastmilk Storage bags– I have to tell you. I am a huge fan of my Madela pump and all it's parts. But the storage bags? They suck. To be totally honest, the Target Brand Breastmilk Storage bags were better than the Madela ones. But my absolute favorite ones that never spilled or leaked or caused any headache were these.
Bottles– Honestly, I don't think you should stock up on bottles before the baby is born because its definitely a trial and error kind of thing. What one baby loves, another baby hates. I can't tell you why. Luckily, we didn't have to do any swapping bottles because we just decided to use the Madela ones that came with the breast pump and we just bought slow flow nipples to match. It worked great for us, but you'll have to figure this one out on your own. What I advise you to do is only buy two bottles to start and only use slow flow nipples. Once you find the bottle that is right for you, then you can stock up.
Nursing Cover– I'm going to be real with y'all. I hated all nursing covers in all situations. If ever I could nurse uncovered, I would. I'm not the type to nurse with my nip out in front of my dad or someone else's husband or anything like that, so yes, I used nursing covers frequently. But that doesn't mean it wasn't awful. If I had to choose one, I would choose one that is kind of sturdy so that it's not laying right on top of the baby's face. This one has a wire at the top that allows you to peek through and watch your baby nurse without needing another hand. If you are looking for convenience, though, this one is the way to go because it's a nursing cover, a car seat cover, and a scarf all in one. Super cute.
Nursing Pillow– Here's where things get tricky. There are a ton of nursing pillows out there but only a couple that are even acceptable. I ordered a cheap one before my first baby was born thinking they were all the same and I was sorry for it later. Only a high quality, really god one is considered one of my baby must haves. Turns out I love two and I can't just choose one. Boppy is a pretty obvious choice. It really is a great nursing pillow. But honestly, I'm tempted to say that the Ergo Natural Curve Nursing Pillow is better. I honestly think it is. It holds your baby really close and in the perfect position to help with nursing and digestion.
Sippy cups– I've had huge success with sippy cups. I really feel like this is something that I did totally right. My son easily gave up the bottle the day after his first birthday and now drinks from any type of cup we give him. I started with these sippy cups first and then added in these cups to the mix. It's nice not to get them stuck on a spout. Get them used to using the same motions as he will as an older child/adult. A straw, or the edge of a cup is best. It's also better for their teeth not to suck on a spout. These two cups are perfect for that.
Health
Thermometer– For some crazy reason, I literally thought I needed a temporal thermometer, a tympanic thermometer, and a rectal/axillary thermometer for my baby. I had all three! Quickly I returned all but one. This one. Because it is all you need.
Colic Calm– forget the gas drops, forget the gripe water. This is all you need. It seriously works like a charm with only a small dose (way less than the dose of most gripe waters). I'm passionate about this stuff. Look it up and you won't be disappointed. When I have another baby, this is going to be on the top of my baby must haves checklist.
Baby Probiotics– Gerber Soothe Probiotic was my saving grace when my baby had tummy problems. I was so thankful when I found this product. I suggest it to everyone.
The Nose Frida– I was totally the girl who was like "eww, no way will I ever suck out my baby's boogers". And then my baby got a cold. The end.
Vicks baby rub– I'm not kidding. Vicks baby rub is a miracle worker. Rub it on that sweet baby's chest (or back) and feet before bedtime and it seriously helps them sleep through a cold. I don't know what I was doing when my baby was sick before I found Vicks baby rub. Not sleeping, probably.
Bath/Hygiene
Baby Bath tub with sling – We tried using a bathtub without a sling. What a disaster. That poor little newborn is sliding around everywhere and you just don't have enough hands for that when you're trying to wash the spit-up from under his chin.
Nail Clippers– I really feel like I needed two. I didn't intend to have two (they were gifts) but having both was really great. Those tiny, thin, baby nails grow like weeds and I was constantly trimming them. I never really got into the whole nail file thing for babies so having two clippers, one for the diaper bag, and one for the changing table, was really convenient to make sure those nails weren't scratching up that perfect angel face.
Desitin and A&D Ointment– If someone recommends Butt Paste to me one more time, I'm going to flip my lid. A combination of Desitin and A&D ointment has always been the only treatment that really worked on my baby's bum when he had a diaper rash. Anything else I tried always just seemed to make things worse. I'm a believer in the Desitin + A&D combo (two separate products) and you should be too.
Some Other Great Baby Must Haves That Helped Me Survive Mom Life
Diaper cream applicator– I'll admit, I was one of those people that thought this item was totally frivolous and unnecessary. I mean, you can just use your finger. But now that I've been spreading cream on my child's butt for 18 months, I'm kind of over it. I'll get this next time FOR SURE.
Lucy Darlin's Baby's First Year– mothers will always remember their babies "firsts" but when you can add pictures and dates to them, the memories are so much sweeter. This book is absolutely adorable and has perfect little pages for each month of the first year plus pages for specific firsts like first bath, first car ride, and of course, first holidays. Love it!
Nuroo Pocket Shirt– This is not a necessity. I didn't have this with my first baby. I just really think it would be an awesome thing to have to make sure you get your skin to skin contact that you and your baby both need in the delicate fourth trimester. It's a shirt that holds your baby tight to your skin and allows for breastfeeding. It's similar to a sling, but without a layer of fabric between you! So cool!
The Mommy Hook– We have two! I'm telling you, it's the simplest purchase on the list but I couldn't imagine not having it. It holds my purse, the groceries, and the diaper bag onto the stroller so that my hands remain free-ish. Baby must haves? No, it's a mommy must have.
Clothing
Ok, so first of all, I recommend figuring out short sleeve or long sleeve based on when your due date is and where you live. If you live in Minnesota and you're due in December, I have a feeling you aren't going to be needing any newborn sized short sleeve onsies. If you live in Arizona and you're due in June, you might not need any long sleeve anything for a few months. Get it? So I can't really tell you exactly.
Basically, my advice for clothing is to register for the basics. Register for neutral colors, whites, and greys, plain onsies (long or short sleeved), jammies, socks, and basic pants. This gives you the freedom to pick out your own "outfits" yourself without being all extra specific in your registry like "I want THIS outfit in size newborn, and THIS outfit in size 6-9 months, and THIS dress in 3 months." It might be hard to get what you want this way.
In my opinion, you'll probably be using onesies until your baby starts walking. I think after that, onesies got kind of annoying. So I wouldn't buy very many onesies in 12 months or older. Stick to the smaller sizes.
The opposite goes for T-shirts. They might be really cute in newborn sizes, but you probably wont be using T-shirts until their a little older, lets say, around 6 months. Anything younger than 6 months, keep the T-shirts and multiple-piece-outfits to a minimum. My baby lived in jammies for the entire newborn stage unless it was some kind of occasion where I felt like I needed to put him in something other than sleepers.
It's About More Than Just Baby Must Haves
Remember that you have needs too, mama. After you're done obsessing over all of the baby must haves, make sure remember to look into your own must haves for after the baby arrives.
I have a list of all o the things you need to know about your body postpartum. When we register, we often focus on our new babies and forget about ourselves. Well, that's ok, you're a mom now, so get used to it. But download my Postpartum Recovery checklist to make sure that you are stocking up on all of the things YOU will need postpartum.
Don't Let Your Baby Registry Overwhelm You
Truly, all your baby needs is you. Your baby will be JUST FINE if you have absolutely nothing on this list, but in order to make life a whole lot easier, I would stick to it. You don't need to go searching for the best of everything. I've done that for you. Take the stress out of searching for the best must have baby items. Take my checklist with you and thank me later.

What did you realize you needed that you didn't get at your baby shower? Share your favorite baby must haves in the comments below.
What To Read Next: