21 Of The Best Breastfeeding Essentials For Nursing Moms
Alright, you want to breastfeed and you've heard that it's not necessarily the easiest thing in the world so you want to be prepared. But where to start? Everyone and their mother has an opinion about breastfeeding and you just can't figure out what you really need when it comes to breastfeeding essentials. Well, I've got you covered with this comprehensive list of the breastfeeding accessories and supplies that I absolutely recommend.
Choosing to breastfeed can feel like a huge decision to make when the baby isn't even here yet. You hear that breastmilk is the best food for your baby and you know that there are benefits for you too but… isn't it going to be hard?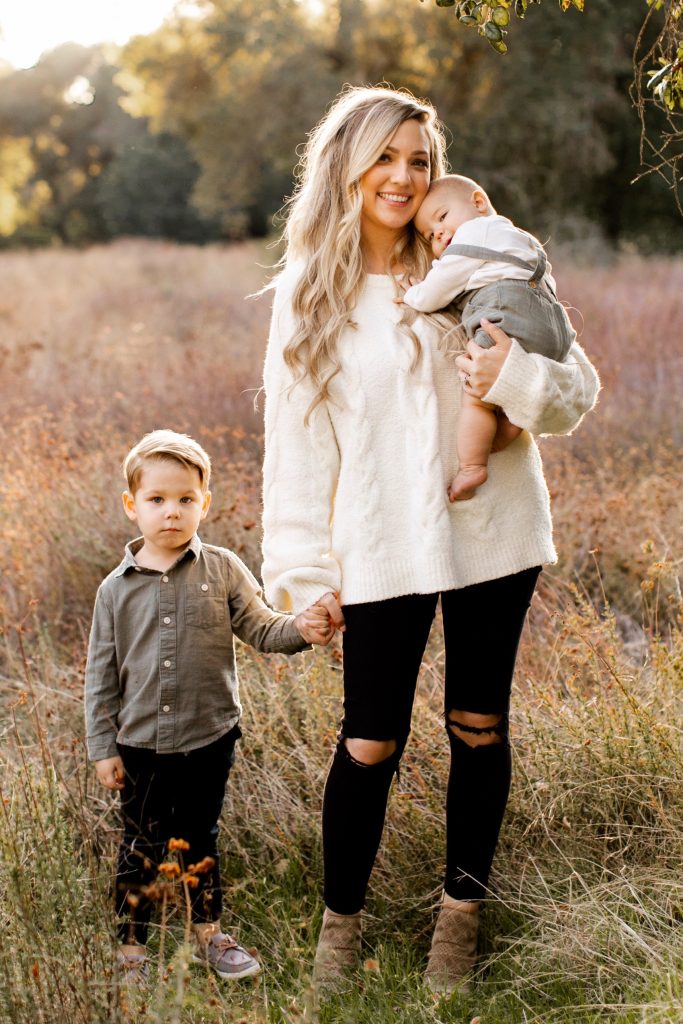 Please note: The views on this website are personal opinions only and do not represent the opinions or policies of any provider or institution that I am affiliated with. I am not giving medical advice. Information on this website is not intended to diagnose, or treat any form of any disease. This article is for informational and entertainment purposes only. I am only telling you what my experiences are. Please refer to my Disclaimer Page for more information
This post may contain affiliate links. Learn more here
Well, for many mamas, the answer is a resounding "yes". It can be very difficult to breastfeed especially if you go into it unprepared.
My hope for you though, is that you can meet all of your breastfeeding goals by getting prepared ahead of time. Breastfeeding, although it can be challenging, is one of the most rewarding and fulfilling parts of new motherhood. Having breastfed my son for 12 months, I figured out exactly what breastfeeding essentials you need to make it a little easier.
Please note: The views on this website are personal opinions only and do not represent the opinions or policies of any provider or institution that I am affiliated with. I am not giving medical advice. Information on this website is not intended to diagnose, or treat any form of any disease. This article is for informational and entertainment purposes only. I am only telling you what my experiences are. Please refer to my Disclaimer Page for more information
This post may contain affiliate links. Learn more here.
My 21 Favorite Breastfeeding Essentials
I don't know if I could have continued to breastfeed as long as I did if I didn't have some wonderful gadgets and breastfeeding accessories to make breastfeeding a lot easier. These are the top breastfeeding essentials for every nursing mama. Don't forget to add them to your Amazon Baby Registry!
Want to know what my biggest mistake was as a brand new nursing mom? I didn't register for a quality nursing pillow. I saw somewhere online where I could get a nursing pillow for free and just pay shipping. So, that is the route I chose. The nursing pillow came before the baby was born and I though it looked fine. They are probably all the same, right?
Nope!
The nursing pillow that I had at first was so squishy, soft and flimsy it was literally useless when it came to helping me support my baby as I nursed. I stopped using it after a week when I realized I had made a huge mistake.
Learn from my mistakes and buy one that is firm enough to support the weight of your baby and large enough so that you won't be hunched over your baby, breaking your back as you try to get this tiny human to latch.
This nursing pillow is super popular. Everyone seems to love it. It's the epitome of nursing pillows and I'm sure you can't go wrong with it.
On the other hand, this one was my absolute favorite thing once I started using it. Its firm, it fits perfectly around my body, and it holds by baby in just the right position to get a good latch. It was an absolute life saver and I would recommend it 100%.
You should absolutely invest in some good nipple cream. Breastfeeding will make your nipples sore and cracked in the early days and even weeks. Nipple cream can work wonders in soothing your sore nipples after nursing. I mean, you're going to be doing it at a minimum of 8 times a day (for me it was more like double that) in the beginning. Can you really expect anything other than sore nipples when you nurse that frequently?
I was so thankful for this nipple cream that a friend recommended to me. There are many options though. These are three of my favorites for various reasons.
Breast pads were one of those things that everyone told me that I would need but I didn't fully understand until I experienced it for myself. The squirt is serious, girlfriend. You have no idea how many bras and shirts I soaked in breastmilk those first few weeks. To be honest with you, there is no perfect breast pad (that I've found so far). I tried every brand that I could get my hands on trying to find a breast pad that stayed put, didn't crinkle up in my bra throughout the day, and was absorbent enough to catch my oversupply. If you find a perfect breast pad, please let me know! Otherwise, these are the ones that I would recommend compared to others that I tried:
This reusable option was nice because it was so soft on my skin. It wasn't irritating like some of the disposable options. I did enjoy them, but I felt like I needed a huge stash of them to keep it convenient. You can't just have a couple washable breast pads and expect to never use disposable ones.
These disposable breast pads were a life saver, honestly. If I didn't have them on 100% of the time, I had two big wet spots on my shirt — guaranteed. One time, I forgot to put breast pads on for a target run and my milk soaked through my bra, shirt, and sweatshirt! For a while it felt like I would never go without breast pads ever again. The leaking happens for a very long time (like… the entire time for some people). So, stock up on the largest box you can find and expect to need more.
A good nursing bra is something you absolutely cannot pass up. Trying to nurse in a regular bra is close to impossible. I tried it a couple of times and it was disastrous. If you're the free-spirited type that doesn't typically wear a bra, you might end up reconsidering that decision when your boobs are full of milk. It's important for you to get some support. Not to mention you'll need somewhere to put those handy breast pads. You're going to need a couple different types of nursing bras.
The wire (push up) nursing bra was important for me because having large breasts in a flimsy cotton bra all of the time doesn't give enough support when out in public or at an event like a birthday party or wedding. When I was wearing normal clothes, I also wanted to feel like I was wearing a "normal" bra. These nursing bras look just like any old regular bra and make you feel normal again. But at the same time they have a clip on the straps so that you can pull down the cup to nurse your baby easily. I highly recommend getting a couple nursing bras like this one for your breastfeeding wardrobe.
The wireless nursing bra is probably what you'll wear most of the time. It gives enough support for day-to-day use but is still super comfortable. They have fantastic reviews. I recommend getting a few of them since you'll be wearing them every day for many months!
Last but certainly not least, you need a couple nursing bras for sleep too. These ones are so nice because you don't have to worry about a clip. They just pull to the side making it easy to nurse in the middle of the night, lying down –and half asleep if you're anything like me. Plus, they are so soft and comfortable, you'll hardly know they are there.
You know you're a mom of a newborn if you no longer wear t-shirts, sweatshirts, long dresses, or high-neck-anything. Everywhere you go, you have to consider how difficult it will be to pull up or pull down in public. Even wearing a nursing cover, you might not be completely comfortable pulling your shirt all the way up over your boob. For me, it was nice to have shirts that give easy access to nursing while still looking like I got dressed this morning if you know what I mean. Here are some fun nursing tops that work:
I fully support you if you choose to go without a cover while nursing. To be honest, I preferred cover-less too. But in public, I just could not stand the thought of some creep-o watching me nursing my baby. It was uncomfortable for me. Also, I was not comfortable nursing without a cover in front of my family such as my dad, my father in-law, uncles, brothers, etc. If it's just me and a bunch of women, fine, I'll go without a cover. But considering holidays, visitors, etc, having a couple of really good covers was a necessity from the very beginning. There are two types that I recommend getting.
The first type was important to me because it was easy, breathable, and light weight. I loved that it had a curved wire that held the fabric up off of my chest so that it wasn't lying directly on baby's face and I could see my baby as I breastfed. This was usually my cover of choice when at home in front of people that I didn't want to see my boobs.
The second type is a great option because it's more full coverage and is multifunctional. I loved this one for when I was out and about. You can use it as a carseat cover while baby is sleeping and then convert it to a nursing cover for feeding. It really is so convenient. The thing about this one that I didn't completely enjoy was that it was so soft and flimsy that it would lie directly on my baby's face and cause him to get hot and sweaty as he nursed. But it was nice for public use because it gave more complete coverage than the other option.
You can go wrong here. WAY wrong. Don't make the same mistake I did and just register for whatever burp cloths you happen to run across because "Who cares? They are just burp cloths". Lord, please, no. Only buy high quality, LARGE burp clothes. The skinny little ones that hardly cover your shoulder are a mean joke. My son had really terrible acid reflux and therefore I know what I'm talking abut when it comes to burp cloths. These ones are my faves:
Even if you don't plan to go back to work and you don't feel that you need a huge stash of milk sitting in the freezer, a hand pump is important to have. Your bound to feel over-full or have a clogged duct that you want to get out at some point. If you plan to go out on a date night without supplementing with formula, then a pump session every now and then will be beneficial.
I purchased the Medela Hand Pump, it turned out to be a great option for occasional use. Whatever you do, make sure you get one with good reviews because a hand pump that doesn't do it's job is frustration that you don't need in your life right now.
Alright ladies, listen up. This is IMPORTANT. You absolutely must have a Haakaa pump. Why didn't I put this as number one? It is a must must must must have for every single one of you. No, this is not sponsored. I just love it that much. Let me tell you why. Ok, so, you know about "let down" right? When your baby latches and sucks for a bit, it triggers your "let down" which is when the milk flows out of the nipple without any sucking or expression necessary. It happens to EVERYONE. We all have a let down of some volume, even if it's small. Well, I used the Haakaa pump in two ways and I'm sure you will be able to use it for at least one of these ways.
When your baby nurses on one breast, suction the Haakaa pump to the opposite breast to catch your let down instead of allowing your liquid gold to spray out into your breast pad. Yep. Every single time that your baby feeds on one side, some of your precious, hard earned milk is being wasted into your breast pad on the other side during your let down. It's a travesty! With the Haakaa pump, I could save around 2 ounces of milk that would have been wasted Every. Single. Time I nursed. This is different from pumping on the opposite side with a hand pump. You aren't doing any actual "pumping". The Haakaa pump just catches the milk that comes out automatically by nursing on the other side. This means that you can, of course, still nurse on both sides at each session because the Haakaa pump does not empty the breast. Genius!
I also used the Haakaa pump to catch my oversupply during nursing. This means that when my letdown happened, it was overwhelming for my baby and he could not keep up with the amount of milk squirting out during the let down. Most of the time he would let go at that time and my milk would spray everywhere. Until I got the Haakaa pump. Once I figured out that I could save that milk for later, I started having the Haakaa pump ready to catch the milk during let down so that my son wasn't overwhelmed by too much milk at once and I wasn't wasting that precious liquid gold. It was a win win.
You don't even have to be a pumping mom to make use out of milk storage bags. If you are using the Haakaa pump to catch your let down (like I think you TOTALLY should), you're likely going to want to store that milk for later. I highly recommend that you do! I tried lots of different milk storage bags trying to find the ones that are easy to transfer to a bottle, don't leak, have accurate measurements on them, and are easy to use. There were a few brand name ones that I absolutely hated, and some super cheap ones that worked great. Isn't it funny how that works sometimes? These are the ones that I had success with.
If you are struggling with low supply or just need a little boost, this Milk Maid Tea from Earth Mama Organics is so good. Not only is it delicious hot in the mornings but also iced with dinner. It's a comforting blend of organic herbs to help support healthy breast milk production. It's made with fenugreek, fennel, milk thistle and raspberry leaf. So many benefits, so little time! Of course, speak with your pediatrician before starting any herbal remedies or supplements to increase your supply.
These Booby tubes are a fabulous invention that I wish I had known about when I was breastfeeding. I got a few painful clogged ducts as my son started to sleep through the night. You could find me with hot packs on my boobs, massaging vigorously as I nursed on any given day in those weeks. Well, it turns out I didn't have to! Earth Mama Organics have come up with this fantastic product that soothes sore breasts and clogged ducts while encouraging let down as you nurse. I wish I had known! All you have to do is throw them in the microwave for about 30 seconds and you have a nice, warm, soft and completely safe way to comfort your poor nursing boobies.
A sling is one of those things that I got for my baby shower that I didn't bust out of the box until much later than I should have. It seems intimidating. Doesn't it? I was afraid I was going to do it wrong, look ridiculous, or just plain hate it. Boy, was I wrong. I freaking loved my sling once I started using it. Not only is it good for breastfeeding, but it's amazing for just carrying baby around while you get stuff done or when they are super fussy and want to be held all day. This is an essential breastfeeding essential.
I have not tried all of the wraps out there. There are so many of them! I'm sure they all do the trick just fine. Just find the one that you feel will work for you the best. Here is the one that I've used and loved.
14. Smart Phone App
When did I last feed him? Was it a full feed? Did I nurse on both breasts? Or just one? It's called mom brain. It's a fog sometimes, especially in the early weeks when babies nurse SO frequently.
You won't need an app to help you track for very long if you get on a good eat, play, sleep routine. But in the beginning it can be useful to get a good rhythm down by charting feedings, diaper changes, etc. Here are some breastfeeding app options to get you started. Most of them are free and they can really help you figure out a routine that works for you and your breastfeeding babe.
Baby Feeding Log
Glow Baby App
Baby Nursing app
Baby Nursing / Breast Feeding
Total Baby Pro app
I cannot tell you how excited I got when I found out that these existed. Each tray freezes 8 one ounce milk "sticks". Do you understand what this means? It essentially means NO wasted milk. None! If your baby needs two ounces at this feeding, pop out two sticks. If your baby needs six ounces at the next feeding pop out six sticks!
I used breastmilk storage bags when I was a pumping mama but breastmilk freezer trays seem completely genius and convenient. The problem with bags is that the measurements aren't exact and it's extremely wasteful to try to only store milk one ounce at a time with bags. So you end up with some bags that have two ounces in them and other bags that have 5 ounces. If you are a pumping mom, you understand how frustrating that can be.
I feel like these trays take way all of that frustration. These will absolutely be going on my registry with my next pregnancy.
Breastfeeding makes you thirsty. And for good reason! You really need to keep up on your hydration if you have plans to breastfeed for any amount of time. You're going to want to take a full water bottle everywhere you go. That means to the couch and then also to the rocking chair ?. I can't tell you how many times I was stuck on the couch nursing when I realized "oh my goodness, I'm so thirsty" and was stuck there until the end of the session.
Dehydration is the enemy of every breastfeeding mother. This 32 ounce glass water bottle with a silicone cover and stainless steel lid is the absolute perfect water bottle for breastfeeding mamas. Non-toxic in every way and large enough to keep you hydrated.
You've been popping these pills since before you even knew you were pregnant and now…you still are. Continue taking your prenatal vitamin every single day to ensure that you are getting the nutrients that you and your baby need. Of course, a well balanced diet can never be replaced by supplements, but they sure do help.
This is a breastmilk collector that you will be SO thankful that you have when you finally go out into the world and you realize that your breasts leak like a mother (?).
I wouldn't use them all of the time. Breast pads can do the job when you're hanging around the house. But I would stick a couple in your bra if you're running errands or in the car for a long time and your baby might be crying in the backseat for a few minutes triggering your let down to go crazy. I'm all about saving milk at every opportunity. So if that means collecting liquid gold in my bra, then so be it.
Instant relief for sore nipples sounds pretty great to me. You, hopefully, won't have to use these for very long, so don't go stocking up on too many of them. But, in the beginning when your nipples are cracked and sore, these hydrogel soothing pads can be extremely helpful. They cover your nipple with a cool gel pad to give instant cooling relief between nursing sessions. Oh, and don't forget! They are reusable, so you can take them off and put them back on between feedings throughout the day.
Ok, you absolutely do not have to buy these. They are just an example of what you need to do to keep track of your feedings. It is easy to forget which side you last nursed on and which side to start on this time. It gets even harder when you breastfeed on both sides most of the time.
All you need to do to keep track of your feeds is put a colored paper clip on your bra strap on the side that you need to nurse on next. For example, if you started your nursing session on the left this time, put your paper clip on the right bra strap to remind yourself to start nursing on the right side next time.
It's important to make sure you are switching which breast you start on every time you nurse to ensure that each breast is maintaining good supply and your baby is getting all of the hydrating fore-milk and the yummy hind-milk from both breasts.
Although breastfeeding is the most natural way to feed a baby, it doesn't always come naturally. Sometimes you just need some help. If nothing else, breastfeeding essentials include practice and a ton of patience. If you find yourself struggling to breastfeed or you want to be prepared ahead of time, a good breastfeeding resource to read and refer back to when you're in the thick of it is a great idea.
One Last Breastfeeding Essential
Rest! It's the one thing that you're probably not getting and you can't register for but you absolutely need. If I could give one breastfeeding tip to new breastfeeding mothers it would be this. Relax, and know that you are doing your absolute best. Don't let the stress of breastfeeding bring you down. Stress and anxiety can diminish your milk supply even further and prevent a good latch.
You can do this, mama! I hope that these breastfeeding essentials help make your breastfeeding journey a little smoother. I also hope that it makes registering for your baby shower little easier too! If you still need to register for all of the New Baby essentials, don't forget to download my FREE Ultimate New Baby Checklist to learn what all of the essentials are for new moms.
Is there something that you think I missed? What other breastfeeding essentials do you think are important? Let me know in the comments!

What to read next: