The EASY Schedule That Saved My Sleep: How To Make Life With A Baby E.A.S.Y
Are you wondering how to create an easy schedule for your baby that will help you get more sleep? Are you desperate to find a newborn sleep schedule that will give you back your sanity? Girl, I get you!
Having a baby is anything but easy most of the time. Being a mom is not a task that you took on lightly; in fact, you planned and prepped and purchased all-of-the-things in anticipation for it to be, actually, very hard. But did you plan what kind of baby sleep routine you would follow? Probably not. Often times, we fly with the wind until something goes terribly wrong and we are desperate to fix it.
This post might contain affiliate links. To learn more, you can read my full disclosure here.
Easy Schedule For Your Baby's Sleep Routine
Who Needs An Easy Schedule For Their Baby?
I had no idea how little sleep I would be getting as a new mom. I never, ever, in a million years, thought that I would be able to survive on such little sleep, giving so much of myself to my new baby and taking nothing for myself. Yikes. It was hard. But once I figured out how to create a perfect baby bedtime routine that made my son feel happy and secure, it all got so much better.
Change Your Life With The E.A.S.Y Baby Routine
Let me tell you something. You need more than just help here and there when you're at your wits end. What you need is a lifestyle change. As I say "lifestyle change", I can see the workout instructors and the fad dieters mouths moving in slow-motion in my mind "LIFESTYLE CHANGE". Don't worry, this change doesn't require you to flip your world upside down and do an enormous amount of work to get to an end result.
No. To be totally honest, I'm not even going to tell you to ADD anything to your day. You don't need to take more onto your plate. You don't need to remember to do this ONE THING that is a miracle worker that will make your life all rainbows and butterflies. In fact, you won't have to change anything that you already do on a daily basis.
You just need to change the order in which you do them.
I'm suggesting a change in your daily routine that will allow you to predict when you get to take your next deep breath. You need time for yourself. Even the best mom on the planet, who deeply believes that now that she's had children, her whole life's purpose is to live for them…still needs space to breathe and reset.
How I Discovered The E.A.S.Y Sleep Routine
It all started when I went to my son's very first well-baby check up with my new pediatrician. He was about one week old. My pediatrician was laying it all out there for my husband and I, giving us advice and writing things down so that we wouldn't forget. She could, I'm sure, read on our wide-eyed, tired, first-time-parent-faces that we had no idea what the heck we were doing.
Well, she went over a lot of stuff and since I was still in my postpartum haze, I hardly remember the visit. But I remember one thing very well. She took a blank piece of scratch paper, turned it over, leaned in towards me to make sure she had my attention, and started writing something very simple in large bold letters. She wrote:
She briefly explained it to me and sent us on our way. I didn't take it seriously at first because I had just met this woman and she obviously didn't know what she was talking about because babies fall asleep after eating. That's just the way it is and how it has always been, right? That's what all of my friends and family told me, anyway.
So, I tucked the piece of scratch paper away in my diaper bag and didn't look at again until there came the inevitable time when I felt like I was going to die from sleep deprivation when I dug that piece of paper out of the depths of my bag to give it a second look.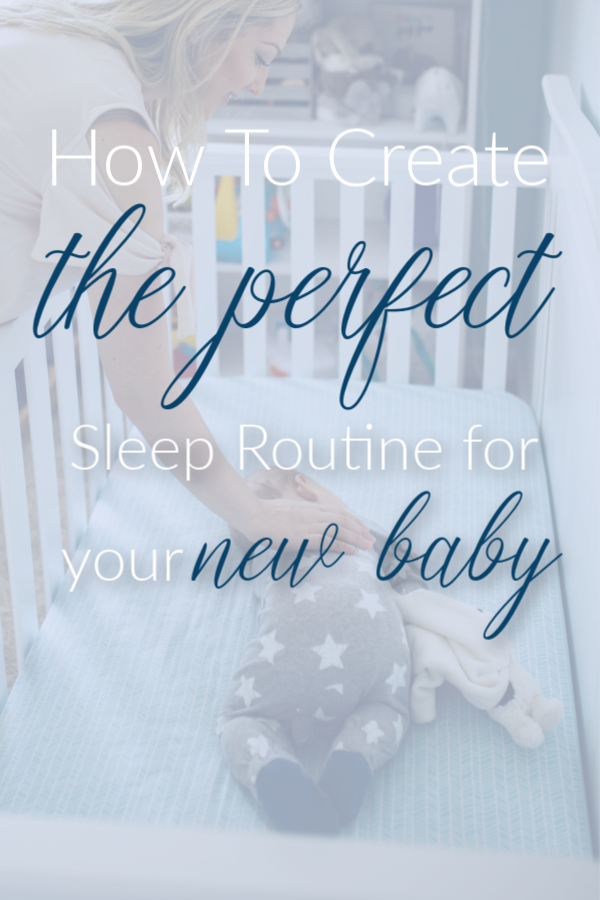 What Is The E.A.S.Y Sleep Schedule
I didn't know it when I first started to implement it, but the E.A.S.Y. routine was actually created by Tracy Hogg, the author of Secrets Of The Baby Whisperer. I thought that this was just an easy schedule that everyone but me knew about. I didn't realize that it came from a book. Unfortunately, I hadn't read the book so I started to use it in a way that I just threw together myself and I modified things as I discovered what worked for my family.
I never did get to take full advantage of the book that this routine originated from because I didn't know it existed until after my son was already a good sleeper! When I found out that there was a book out there on the whole thing, my mind was seriously blown. I thought that it was just an acronym that my pediatrician had made up, but there is a whole book on the subject! Yaaaas.
So, I bought it. I had to right? I mean, I had been using her methods for months with success and hadn't even used the resources available to me. (eye roll) Typical of me to make things harder for myself without even realizing it.
I read it, loved it, and I really do recommend it if you need some extra help getting your baby to be a good sleeper.
An Easy Baby Routine That Didn't Require An Easy Baby
I needed an easy baby routine. I did not have an "easy baby" on my hands by any means. My son fussed a lot, had acid reflux that kept him awake at night and made his naps painfully short, and I had some breastfeeding struggles that resulted in even less sleep for me.
The E.A.S.Y. routine was such a blessing because it didn't require me to change my whole life, or put my infant on a strict schedule, or let my baby cry it out for hours, or hire a sleep consultant. I didn't need any of that because I believed and still believe that being patient, and introducing good habits to my baby, would give me the happy sleeper that I so desired (and needed!).
So ladies, I want to give you all the goods. Be forewarned, I don't necessarily do everything the way that The Baby Whisperer would have me do it. This is because I had started it before I ever discovered her. Anyway, the basic concept is the same. This is what worked for me and my family. Once we got into the habit of following the routine, it ended up giving us an ahh-mazing sleeper. Thank the Lord!
Please note: I am not a doctor and I am not giving medical advice. Information on this website is not intended to diagnose, or treat any form of any disease. This article is for informational and entertainment purposes only. I am only telling you what my experiences are. Please refer to my Disclaimer Page for more information.
Secrets of The Baby Whisperer Explained
I'm totally thankful for the E.A.S.Y routine because it gives structure to the day that adults and children thrive on. It allows for consistency and predictability when it's needed most. During this time, when you bring a new baby home and have to learn her needs and make a million decisions a day, a structure you can rely on is going to be your best friend.
1. Eat
What do you think about day-in and day-out at every waking (and half-awake) moment of your life now that you have a new baby? We are all the same in this department. We think about when, how, and how much to feed our baby.
The good news is, it doesn't matter how you feed your baby. It only matters when. Bottle feeding, breastfeeding or both, this easy routine works! During my baby's first year he was breastfed only, which transitioned into breast and bottle (of breast milk) when I went back to work, and then very slowly evolved to bottle feeding only for a short time after his first birthday. So, I can vouch for the E.A.S.Y schedule in every stage of feeding.
The basic concept is to not let your baby fall asleep nursing or on the bottle. Because of this, I recommend waiting to implement this strategy after the first 6 weeks of nursing on demand while your baby adjusts to life outside of the womb.
It all starts first thing in the morning when you baby wakes up. Feed your baby at your designated (but flexible) wake-up time each day and you have officially started the cycle. Then, after every nap, feed your baby when they wake up.
2. Activity/Awake
Believe it or not, your baby actually does need more than to eat, poop and sleep. I know, I just blew your mind. Even on an easy schedule, there is more than just sleep that you need to focus on. Your baby does need awake time and activities that suite their age. For a very young baby, awake time might just be watching a mobile or listening to you sing during a diaper change. An older baby might need activities like learning how to crawl or stand.
Awake time includes a full feed, a diaper change, and any age appropriate activity of your choice until:
a.) awake time is over based on normal awake times for her age
b.) your baby is showing you she is tired or
c.) It's time for your bedtime routine before night sleep.
The last thing that you want is for your baby to be over-tired. That is the absolute worst and it can actually cause your baby to sleep less. Take it from me, my baby was the king of over tired before we started the E.A.S.Y. schedule. It was really hard to catch up and get him out of his vicious cycle of crankiness.
3. Sleep
The whole point to putting your baby and yourself on any kind of routine is to get more time for you to recover from the weight of motherhood and decompress during the day. OH and to sleeeep, Lord help us all, sleep through the night.
The E.A.S.Y routine is not a magic button. Your baby is not going to suddenly sleep through the night tonight because you started implementing it today. This is not a "cry it out" method that promises a quiet night after three to six nights of living hell.
This is a method to teach your baby to fall asleep on their own (while still receiving everything she needs from you) and get used to sleeping for longer periods of time. This whole idea is that you'll never have to suffer through some of the other options out there.
You want to put your baby down to sleep after their awake or "play" time. Start with a rock solid "bedtime routine" at every nap and at bedtime at night but don't include nursing or bottle feeding as part of the routine.
Related Read: How To Get Your Baby To Sleep Well Right From The Start
4. Your Time
Doesn't it sound lovely? Have you forgotten that it even exists? I did. When my son was born, "my time" was thrown out the window, ran over by a semi truck, and then eaten by stray cats. Since I thought I was never going to sit on the toilet alone ever again, I was desperate to find something that worked for us.
Surprise! I am not telling you to sleep when your baby sleeps. I'm literally telling you to do whatever makes you happy during this time. If having a clean house eases your mind and reduces your stress level, then you do you, girl. This easy schedule allows you to have that.
I wouldn't necessarily advise that you to clean the whole house while your baby naps, but I just want you to understand where I'm coming from. If what you need to do while your baby is napping is watch The Real Housewives of New Jersey or paint your toe nails, then that's what you should do.
What I would advise you to do is something that you can't do while caring for your baby. For me, I can do the dishes, the laundry, and vacuum while caring for my baby so you wouldn't catch me doing those things while he napped. No way, Jose, because I call that wasted time.
5. Repeat
When your baby wakes from her nap, you nurse or bottle feed her for a full feed. Keep her awake during the feed, burp her, play with her for a while (whatever amount of time that is appropriate for age) and then finally do a bedtime routine, and put her back down to sleep. The cycle repeats for as many naps as your baby needs a day. There was a time when my baby was napping 5 times a day. Yes, that's a lot of naps because he was taking very short naps, but that didn't last.
Stay Consistent With Your Easy Routine
If you have a new baby in the house, you are bound to run into a developmental leap (from the book The Wonder Weeks Milestone Guide, which I absolutely recommend getting to calm your anxieties when your baby has a few bad nights) or a milestone that feels like it is going to completely flip your whole household onto it's head.
Fortunately for us, there was never a drastic change that turned our world upside down because as our baby grew, the E.A.S.Y routine grew with him. It was so easy to modify his routine one step at a time. Huge milestones in his development turned into minor changes in the routine.
I believe that our son felt safe at bedtime after he had gotten comfortable with his routine. I think he took solace in knowing what was going to come next and he never had to wonder if his needs were going to be met.
Don't get me wrong, there were times where I felt confused or worried that the bad nights would play on repeat every night until he was in grade school. Don't worry like I did. Your baby is going through something that all babies go through and he will do just that — GET THROUGH IT. Don't stress. Just stick with the routine, and she will adjust to her new normal.
Why Do It The Easy Way
I have done the E.A.S.Y routine since Logan was probably around 3 months old and I still do a modified version of it today. Obviously it is VERY modified because of his age. But that is the beauty of this system. It evolves with you so seamlessly.
An Easy Schedule Changes Everything
When my my son was still in the newborn stage and I was feeling completely "on call" to his every desire. It felt almost impossible to predict when (if ever) I would have a moment to do what I wanted or needed. Most days I wasn't even able to get myself out of sweats let alone put makeup on to make myself feel like "me" again.
I didn't know when Logan was going to start crying because I didn't know when he was going to be hungry again. I didn't know when he was tired because I didn't understand appropriate wake times for his age. Going with the flow and following his clues was just not good enough because I had no idea what he was trying to tell me. I needed help.
My baby and I needed something safe and predictable. We needed a routine to follow to keep my mind organized, because Lord knows that's hard to do after you have a baby.
You don't have to follow a strict schedule that keeps you locked onto specific times, following a clock like it's your master. I hate that idea to the bone! My husband and I talk about how if we did one thing right, it was to make a easy baby schedule that was predictable while never allowing ourselves to be bound by it. We didn't want to be the family that couldn't go out and do things throughout the day because our baby wouldn't allow it.
The E.A.S.Y Schedule didn't only provide us with a happier baby, it freed us. It really did.
Some Will Question Your EASY Schedule
People love to tell mothers what their doing wrong. It's totally a thing. The thing that people told me I was doing wrong the most was that I was putting my child down hungry. Ummm no? Actually I never put my child down for a nap or night sleep hungry. Ever. And neither do the other mothers who follow Tracy's (the sleep whisperer's) guidelines in Secrets Of The Baby Whisperer.
Yes, I followed the Eat, Awake, Sleep routine and no, I didn't breastfeed my baby to sleep after the fourth trimester. Does that automatically mean that he's hungry? Absolutely not.
Let me lay it all out there for you. The people who tell you that you should nurse or bottle feed your baby to sleep (or immediately before sleep) are the same people who tell you that your baby should only feel hungry every 2-3 hours. Right?
They put their babies to sleep with full bellies and they sleep for an hour or so and then what? They stay awake, not eating for another hour or two before they get to eat again before their next nap? So would it be appropriate for me to tell those mothers that their poor child is always hungry while awake?
No, it would be wrong of me to tell a mother that, because no mother wants to hear that they are leaving their child hungry for any period of time. Both mothers, whether feeding before or after a nap, are likely allowing their child to feed at the same intervals.
Your baby is going to be well fed and happy while you play, read, and talk with your baby. A well fed, rested baby, is a happy baby, no matter how you get there.
Is This A Fool Proof Easy Baby Routine?
No baby is perfect all of the time. Let me tell you something that not everyone wants you to know. NO MATTER WHAT method you choose to get your baby to sleep, they will still struggle with teething, go through growth spurts, experience developmental leaps, have nightmares, and runny noses that wake them up at night.
These things are temporary and the fear that helping your child through these times (as opposed to expecting them to comfort themselves with skills you've only begun teaching them) will ruin all of the work you've done getting her to be a good sleeper… is ridiculous if I'm being mild.
A couple of nights of breaking the rules here and there isn't going to ruin her sleep forever. You are teaching your child a long-term lesson. Babies are allowed to cheat every once in a while, and so are you.
When it gets hard, just try to relax. Keep the general idea intact and follow the routine to the best of your ability. Be confident in the decisions you make as a parent. Don't feel guilty that you're going to mess up her whole sleep schedule if you decide to rock your baby in the middle of the night because she has a tummy ache. Follow your maternal instincts and follow E.A.S.Y. You've got this.
Related Read: Life With Infant Reflux: What Your Reflux Baby Is Trying To Tell You
The EASY Schedule Is Not Exclusive
No matter what type of parent you are, no matter how you feed, or where you sleep, the E.A.S.Y. routine can work for you. If you allow your very young baby to cluster feed, or you dream-feed your baby to encourage her to sleep through the night, you can still follow this cycle of eat, awake, sleep with great success.
Good luck! Try to relax and don't worry too much. You're going to be fine. I promise you and your baby can do this sleep thing and make it out in one piece. Remember that you and your baby are different from me and my baby, your sister and her baby, and your best friend and her "angel baby". Nothing on the internet is going to give you a tailor-made routine that works every night of you baby's life.

Let me know how E.A.S.Y is going for you and your family! Leave your comments about the easy schedule below!
What To Read Next: