When you embark on your breastfeeding journey, it's a whole lot more than just figuring out the latch. Once your baby latches on, then there is the struggle of keeping your supply, getting into a routine, and doing everything you can to make all of your breastfeeding goals. For many moms, in order to reach those goals they choose to pump their breastmilk and store it for later. Because of this, I've created this complete pumping guide to get you started.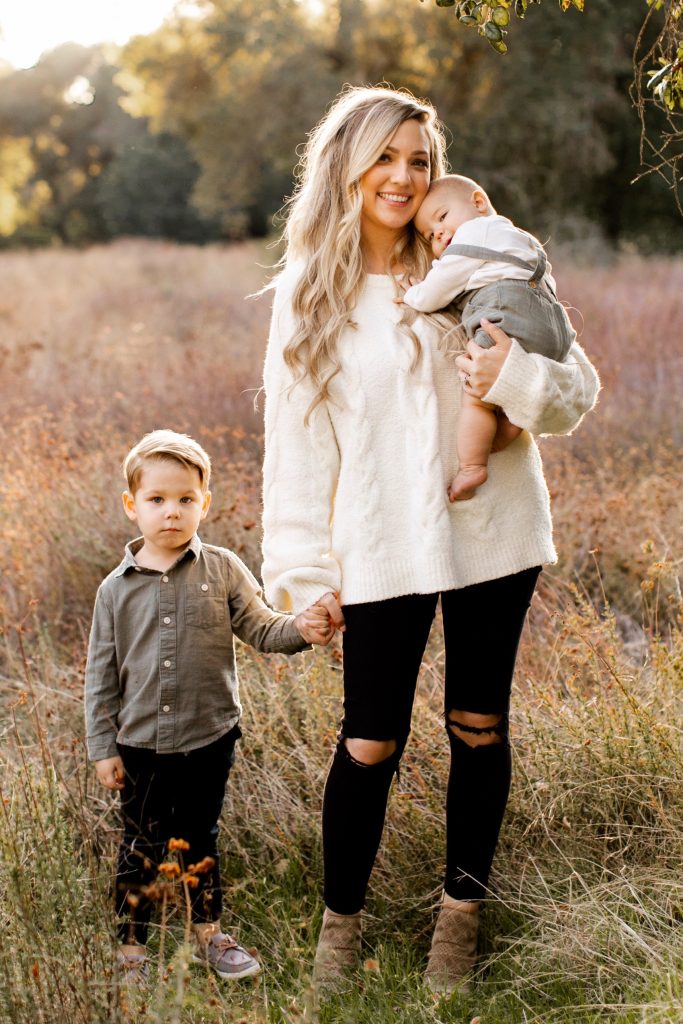 Please note: The views on this website are personal opinions only and do not represent the opinions or policies of any provider or institution that I am affiliated with. I am not giving medical advice. Information on this website is not intended to diagnose, or treat any form of any disease. This article is for informational and entertainment purposes only. I am only telling you what my experiences are. Please refer to my Disclaimer Page for more information
This post may contain affiliate links. Learn more here
Pumping Guide
Moms who plan to breastfeed tend to ask a lot of questions about pumping…and for good reason. Pumping is a whole new world for new moms. It can be daunting trying to make sure that you have all of the supplies and all of the tips that you need to be successful.
After pumping and exclusively breastfeeding (meaning that I never supplement with any other type of milk) both of my babies for an entire year, I feel like it's my duty to create this pumping guide for mamas that need a few tips from a mom who's been there.
Pumping Q&A
In this post, we are going to go over all of the common pumping questions the new moms are asking. The answers come from a mother of two who has breastfed and pumped for both of my babies. I hit (and surpassed) my goal of making it to their first birthday both times because of some of these simple pumping tips.
In this pumping guide, I am going to answer the common questions pumping moms are asking every week over on my instagram where I do weekly Q&As and over in my private facebook community, The Labor Room.
When should I start pumping?
It might be tempting to start pumping right away to build up your breastmilk supply but that is not what I would advise you to do. Even though you want to build your milk supply up ASAP, there are much smarter ways to build your breastmilk supply. Allowing your baby to latch and suckle as much as their little heart desires is significantly more productive in increasing your supply than anything else.
So in the early weeks, as long as you are not exclusively pumping or having trouble getting your baby to gain weight, go ahead and skip the electric pump and just catch your letdown with the Haakaa pump instead. This way, you are not over-stimulating your breasts creating an imbalance in your milk supply but you are catching a few ounces here and there to store.
Start using your double electric breast pump when your baby is around 4-6 weeks old.
How often should I pump?
This answer can be vastly different for everyone depending on your goals. If you are exclusively pumping for your baby and never latching, you're going to need to pump for every single feeding, including the middle of the night to keep up your supply.
On the other hand, if you are pumping to build a breastmilk freezer stash, you're not going to have to pump nearly as much.
When you start pumping to build up your stash, don't go crazy. If you pump too much, your body can overcompensate and overproduce. Sound fun? It's not, I promise.
Instead, pump one time a day. Yep, just one. Pick a time that is most convenient for you.
When is the best time of day to pump?
It is important to choose a time that works for you. If you can stick to the same routine every day it will give you the best result over time.
Many new moms find that pumping an hour or so after the first feeding in the morning will produce the most milk. But if you find it inconvenient to pump during the day like I did, pump in the evening before you go to bed for the night instead.
Honestly just listen to your body and figure out what works for you and stick to it.
Pro Tip: When someone tells you that a certain time of day is the best day to pump but it just stresses you out to adopt that routine…skip it. Go with what feels right for you.
Are you supposed to pump from both breasts simultaneously ?
YES! To save time and sanity, invest in a double electric pump. I've tried a couple of great pumps. The one I always come back to is my Medela In Style Advanced.
Pumping from one breast at a time is possible with a double electric pump but there are only a few exceptions to the rule that you should always pump from both sides each time you pump. Even if you just fed from one side or if you only have one full breast.
Pumping one breast actually triggers the other into making more milk. Win-win!
How long should I pump?
It's important to pump to empty your breasts. Each time you pump, get comfortable, use a pumping bra like this one so that you can go hands-free, grab a bottle of water, and pump for about 15 minutes. A little more or a little less is fine, but this should be your baseline.
Even if your baby typically nurses more or less than that, 15 minutes should be sufficient to empty both breasts at the same time if you are using a double electric pump.
How much milk should I be able to pump in one sitting?
Oh this is a big one. If you haven't seen the competition related to this topic all over the internet yet, you will.
Mothers everywhere like to show off their liquid gold and how much they can pump in one sitting.
Let me help you out here, mama. You don't need to fill a bottle every time you pump. If you have lofty expectations of what it's going to be like to pump for your baby you're going to end up disappointed, discouraged, and searching high and low for ways to increase your perfectly normal milk supply.
If you've just fed your baby and you are doing an after-feed-pumping-session, you might only get drops. That's normal at first. It will naturally and gradually increase over time if you are consistently doing it every day.
If you start pumping at a time that you don't typically nurse, you might get a disappointing little ounce of breastmilk. But here's the thing…consistently pumping at the same time every day will allow for a gradual increase and then…wait for it… a plateau.
Yep. Just because your mom friend on the internet is pumping 8 ounces in a sitting (or more!) does not mean that you will or should be doing the same. As long as you eventually get to a point where you are pumping enough to replace the bottles you're giving, you're good to go.
Also remember, you don't need a breastmilk freezer stash forever. Having a stash is important to build in the beginning. Once the stash is built, all you need to do is maintain by replacing what you use. No more.
How much breastmilk does my baby need in one feeding?
Now that you've started pumping and storing breastmilk, you might be wondering how much you need to pull out of the freezer when your baby is going to receive a bottle.
Well, the answer to that is going to change a whole lot throughout the first year. In the early weeks and months, 2 ounces is a good starting point.
The amount you put in your bottle will slowly increase to 3 oz per feeding, 4 oz, and eventually 6 or even 8 oz depending on your baby's appetite.
It's hard to predict exactly how much your baby is going to take at each feeding so when you pump, do yourself a favor when storing your breastmilk:
Pro tip: Store your breastmilk in 2 or 3 oz at a time. When you have bags that are always 2 or 3 oz, it will be easy to combine bags in the future to reach the amount that satisfies your baby's hunger at the time.
Do I have to pump in the middle of the night?
This is a personal choice. Some women choose to wake up in the night and pump if their baby sleeps longer than they typically do.
In my experience, I have never found this necessary. If you are nursing on demand throughout the day and nursing feeding baby when they are hungry in the night, you don't have to get up and pump when your breasts wake you up telling you that they are busting at the seams.
When this happens I would just use your Haakaa pump to pull out the fore-milk or manually express a little bit to release the pressure if it is really bothering you. Most of the time though, I would just sleep right through the missed feeding. That's what I did. And guess what? I still nursed my baby without using supplementation past his first birthday.
The reason why I chose this route is because I felt confident that since I was nursing on demand, my supply would maintain even if my baby started to night wean a feeding hear or there…and it did.
Take it one day at a time but in my opinion you can sleep while your baby sleeps at night and leave the pump alone.
How many times should I pump in one day at work?
Pump as many times as your partner or sitter will be feeding your baby. If your place of employment does not allow you to pump enough times in a day to replace every feeding, consider pumping on the way to work and the way home using your Medela pump with this car adapter and a hands-free pumping bra.
Are breast pump parts dishwasher safe?
Most pump parts are dishwasher safe. If you're using the Medela In Style advanced double electric pump, you're in luck because all of their pump parts are indeed dishwasher safe on the top rack.
In order to keep track of all of my pump parts in the dishwasher, I use this dishwasher caddie. But this dishwasher bag is actually really practical as well.
A Complete Pumping Guide
Once you start pumping, you'll get the hang of it. Pumping isn't the most fun you'll have in your first year, that's for sure. Honestly, pumping is something that I constantly looked forward to stopping. But looking back on it, I am thankful for my ability to pump for my baby.
With this pumping guide, you are going to do a great job. It's probably going to be difficult and you'll likely want to quit more than once. Remember that you're not alone and this is a choice that you get to make. Not one that you have to make. You are doing something incredible for your sweet new baby.
I hope that now that you have a pumping guide at your finger tips, you have a the confidence to get prepared for the journey you're about to embark on. It's a rewarding journey but it can also be pretty tough sometimes. Let me know if there is any way that I can help! I give weekly advice in my instagram stories and in my private facebook community, The Labor Room.
Leave a comment below if you have another tip in include in this pumping guide!
What To Read Next: