I'm currently 10 weeks postpartum after having my second son, Elliot. Now that some time has passed, I am finally ready to share my unmedicated childbirth story!
Bringing my second son into the world was an experience that I will never forget for the rest of my life.
Childbirth is incredible, right? No matter what your birth looks like, you will leave feeling like you cannot believe that it really happened to you.
This time around, I had a completely unmedicated childbirth and was left completely amazed at how the experience was everything and nothing that I ever expected.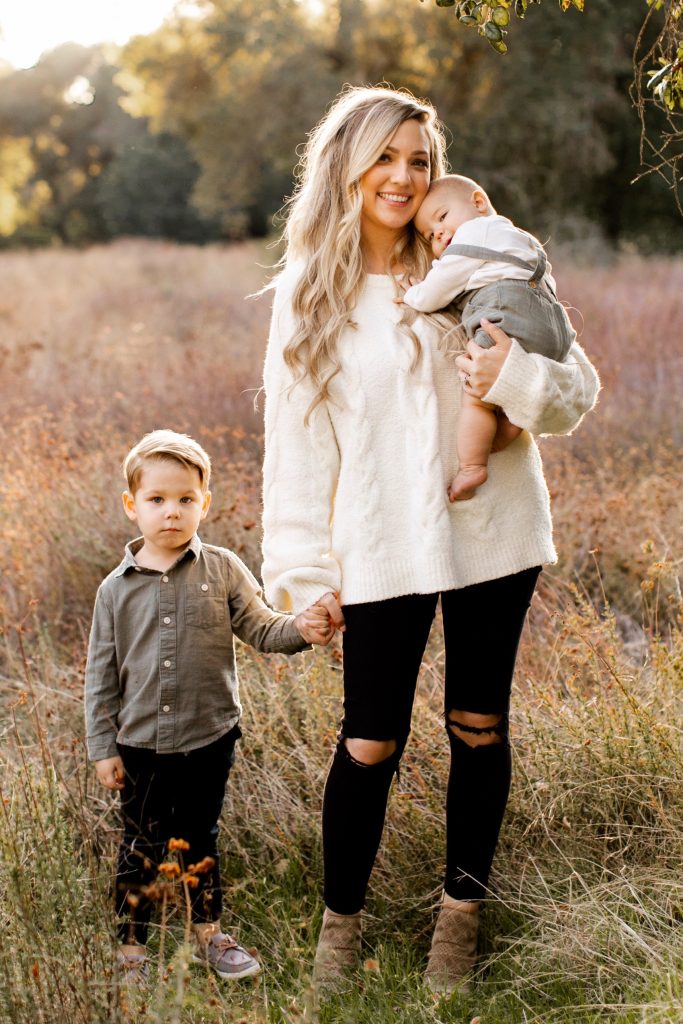 What Is An Unmedicated Childbirth?
There might be a few definitions out there but to me, this is what I mean by "unmedicated":
No pain medication including an epidural, nitrous oxide, IV or IM pain relievers
No Pitocin or other induction drugs
Basically, you're doing this thing. Your body is fueling the contractions and your mind is enduring them. It's all you, girl.
Please note: The views on this website are personal opinions only and do not represent the opinions or policies of any provider or institution that I am affiliated with. I am not giving medical advice. Information on this website is not intended to diagnose, or treat any form of any disease. This article is for informational and entertainment purposes only. I am only telling you what my experiences are. Please refer to my Disclaimer Page for more information
This post may contain affiliate links. Learn more here.
How I chose to have an unmedicated childbirth
Believe it or not, having a completely unmedicated, natural childbirth was a decision that I made on purpose. Why is this surprising? Because I am a labor and delivery nurse that gets to see every type of childbirth as a part of my career. Real talk? Some of them are terrifying.
I see women scream out their babies. A typical day at work for me is one where women have long, drawn out labors that are difficult to endure. I frequently see women with epidurals that sleep through the whole process. But on the other hand, I also see women with epidurals that are still in agonizing pain that they simply cannot tolerate. And of course, occasionally, I see women push out their babies without making a peep.
Labor is crazy. I see it all and yet I still somehow landed on the decision to do it unassisted.
Let me tell you how I came to that conclusion…
My Initial thoughts on unmedicated childbirth
I'm going to be completely honest with you.
When I got pregnant with Elliot, I had absolutely NO INTENTION of giving birth unmedicated. I had already had an experience with labor contractions with my first son and I remembered it being more than I could handle.
If you haven't yet read my first birth story, well, I got an epidural at approximately 3 cms dilated.
I remember feeling scared that I wouldn't be able to tolerate the pain. I feared that I would get to a point where I was no longer allowed to get the epidural and then I would be desperate for one. There were parts of me that even believed that I would be unable to deliver my baby and would have to have an assisted birth without pain medication. Fear drove me in the moments prior to getting an epidural.
Once I got the epidural, though? I loved it!!
Having an epidural with my first childbirth experience was amazing. I'm not going to lie to you. If you want an epidural, you should get one. There is nothing wrong with getting pain relief in labor and if you have the desire to sleep through some of the hardest parts of labor, well, then an epidural is for you!
When I started To Change My mind About My Birth Experience
So, like I said, going into this pregnancy I was certain that I was going to get an epidural when the time came.
Being pregnant just changes things in you though, I swear. At around 16 weeks pregnant I started to consider what it might be worth to try unmedicated labor again. Maybe I could do it? Maybe it would be worth another shot?
I wasn't really serious about the idea, but I entertained it.
I talked with my close friends and co-workers on the labor and delivery unit about my thoughts on trying to see how far I could go before I got the epidural. Still, I believed I would get one but I wasn't sure that I wanted one right away anymore.
As time went on in my pregnancy and I got closer and closer to meeting my sweet boy, I became more and more convinced that I wanted to give myself and my body the chance to labor and birth my child as naturally as possible.
By the time I was on maternity leave at around 34 weeks, I was totally sure that unmedicated was the route I wanted to take and I was willing to do everything I could to make that happen for us.
So, what I'm telling you is that as time went on in my pregnancy, my mind just changed on it's own. The bigger I grew, the more I wanted to give myself a shot to have the birth I always wanted deep down.
Why I chose to have an unmedicated childbirth
I think it's something about carrying life, honestly. The more real it becomes, and the more I get to know the little person inside me, the more I want to be 100% sure that I do everything right for him.
As time went on in my pregnancy and as I did my research about the common labor interventions that we regularly do in the hospital, I became certain that I wanted my body to do what God made it to do as he intended it.
Let me be absolutely clear. I do not think that God doesn't want you to get an epidural. Girl, if you want one, get one. But I DO believe that God made our bodies to give birth and he made our babies perfectly to facilitate natural birth. What I began to believe was that I was made to do this, I can do this, and I had the desire to do this naturally.
Real quick, let's remember that medically assisted childbirth, epidurals, c-sections, or any other type of birth is just as perfect as an unmedicated one. Some women need interventions to save their lives or their baby's lives. Other women labor for many days and have no energy left to do it on their own. There are so many legitimate reasons why you might not have an unmedicated childbirth and that is OK. It's more than OK. It's you're unique birth story! Go you!
What I did to Prepare for unmedicated Childbirth
Obviously, as a labor and delivery nurse, I have a pretty good idea about how hard childbirth can be. I knew that I needed to prepare my mind and body for what the reality of unmedicated childbirth in a hospital setting would be like.
In order to make sure I gave myself the best chance possible, I committed whole-heartedly to the idea that this is going to be the hardest and most rewarding thing my body will ever do. In order to do it, I decided that I needed to do the following things:
I wrote a birth plan
Come on, I was delivering where I work. So no, I did not show up to the hospital with a piece of paper in my hand. I didn't even give my nurse my birth plan to look over.
What I did do was write a birth plan, go over it with my husband, and express my desires to my provider who happened to be a midwife who had experienced 5 natural childbirths of her own.
It was important for me to write out my birth plan on paper so that I could organize my thoughts, figure out what I really wanted, and get on the same page with my partner.
If you would like to look at what my birth plan looked like, you can check it out and get one of your own right here.
I took a natural childbirth course
Taking the time out of each day dedicated to educating yourself about labor is SO ESSENTIAL to preparing your mind for labor and birth.
Investing in a high quality birth course is one of the best things you can do for yourself in pregnancy.
Join Me in the…
Loving Your Labor Academy
The online resource to have the birth you've always wanted
I completed my pregnancy journal
As I wrote letters to my unborn baby, I felt like I was bonding with him each day that I journaled. When I wrote down my feelings and my experiences, I became confident in what I could do for the baby that I was growing inside of me.
Anything can be a journal. If you grab a blank notebook from Target or get a journal created with pregnancy in mind, what matters is that you write it all down.
Write down what you're experiencing, what you're thinking, and what you're looking forward to. Communicate with your baby through letters to him that he may or may not ever read. It's an incredible feeling.
I journaled with both of my pregnancies and it is such a special memory that I'm thankful I have in physical form to look back on.
This is the pregnancy journal that I used for my second pregnancy.
I made sure I was prepared for the logistics of laboring in the hospital
In order to make a hospital delivery (medicated or unmedicated) seamless, it's smart to get certain things in order before hand.
When I see my patients in the hospital suffer because they weren't prepared for the small stuff, I can't help but feel like it could have been prevented! Because I see this all of the time, I created a Labor and Birth workbook with the intention of keeping moms informed and on track for the childbirth experience that they desire.
From a list of important contacts, to sample group texts for when it's go-time, the Labor and Birth Workbook will help you and your support person stay organized when you're completely distracted by your body's reaction to labor.
I prepared my support person
My support person was my husband for both of my labors and I would have it no other way. It is so special to have the person you love the most support you, encourage you, and help you through some of the toughest moments of your life so far. I absolutely love having my husband by my side during labor and delivery.
That being said, I don't think being a labor support person comes naturally to most men. They really need some guidance and preparation before hand in order to understand fully how they can help you.
SupportingHer is a course that I highly recommend. It is created for fathers that want to support their partners in the most effective way possible. It's a super affordable way to take the fear and mystery out of labor. Check it out and if you don't think it's for you after all, they offer a 30 day money back guarantee.
I talked about what I wanted and sought out support
Speaking something out-loud has a crazy way of bringing it to life. I knew that if I kept my desire to have an unmedicated childbirth myself, I would be less likely to keep myself accountable.
I found it helpful to find friends who had experienced unmedicated childbirth. Even finding support groups online was helpful sometimes. Talking to people about what worked for them and finding out tips and tricks to keep moving forward could only help me. So I did that whenever I could.
Something that I had that was so encouraging was a friend that was pregnant with me! She also wanted an intervention-free labor and birth. We frequently talked about our birth plans, what we expected of our labors, and how we planned to achieve our goals.
She and I even had a dinner with our husbands just to talk about our plans and expectations. It was nice to have the guys together to give each other pointers and support and to talk about what methods we might be implementing in order to get through active and transitional labor.
If you have this opportunity like I did, take advantage of it!
I prepared my body
There are lots of ways that you can prepare your body for labor. The list really does go on. These are the things that I personally did to make sure my body was as prepared as it could be for what was to come.
Prenatal yoga at night before bed (when I remembered/had time) starting in the second trimester. I was kind of inconsistent with this, but something is better than nothing.
Went to a chiropractor who specializes in the Webster technique once or twice a week starting at 34 weeks.
Started drinking Red Raspberry Leaf tea once or twice a day starting at 36 weeks pregnant
Started eating 3-6 dates a day starting at 36 weeks pregnant
Went on a nightly walk around the neighborhood starting at 37 weeks pregnant.
My Birth Story
Ok, here is the good stuff, you guys. How it actually went down.
Early Labor
6:00 am
At around 6:00 am on July 29th I started having mild contractions. It was just as I was waking up when I noticed that they kept coming. Somehow, I knew that they were different from the random contractions that I had had throughout the week prior to that day.
Yes, I had had a few contractions here and there prior to this day. Sometimes I even wondered "Is today the day? Will these progress?" but they never did.
On July 29th, however, I woke up in the morning knowing that this was going to be the day I got to meet my son. I guess it's true what they say, when you go into labor, you will know it.
When my husband and I got out of bed, I told him that I think today was going to be the day. For some reason, he believed me. Oh wait, it was because I was four days late…just like the first time!
Even though it was really early and things could still take a very long time, I started to communicate with my birth photographer so that she had a head's up.
10:00 am
My contractions were SO far apart.
Although I had a very strong feeling that this was the real thing, the contractions that I was experiencing were extremely tolerable and pretty irregular.
The contractions were coming every 20 minutes or so and I could talk through them. I was still smiling and having conversations throughout this early stage. At this point, I wasn't timing my contractions either. I didn't have my contraction counter app out and I wasn't writing anything down. I was just going with the flow, hoping that things would start to pick up.
11:00 am
Once the contractions started to get regular and a little bit more intense where I had to stop what I was doing in order to get through it, I decided that I should take advantage of a slow start by getting everything in order so active labor would be smoother.
It was around 11:00 am when I asked my mom to come over to pick up my son, Logan, and take him to her house to stay until after the baby was born.
I didn't want Logan to see me in a lot of pain or rushing to get out of the house. I certainly didn't want my water to break and then have to wait for my mom to come get him. So, asking my mom to take him early was a comfortable decision for me.
12:00 pm
As my husband and I sat at the table eating lunch, I started to have contractions that were actually uncomfortable. These contractions started to feel different than the ones I had been having earlier in the day.
Still, though, I was able to keep conversation and go about my day normally at this point. I still wasn't officially timing contractions but I started to notice that they were slightly closer together. Maybe 10 minutes apart or so.
1:00 pm
Ok, I have to breathe through these contractions at this point and I've decided to change into something comfortable enough to labor in.
I asked my photographer to come over to capture some special moments laboring at home with my husband before I felt like I needed to go to the hospital.
In the mean time, I am coping with early labor by watching Friends on Netflix, sipping on coconut water and snacking on a banana in between contractions. Still, I am smiling between contractions and able to hold a conversation.
Active Labor
2:00 pm
My photographer arrives at my home as I am laboring on the birthing ball. This is for-sure active labor and I'm so excited that things are progressing!
At this point I can still smile and talk between contractions but during contractions is a whole other story. I have to stop, close my eyes, and breathe through each one.
Now it is time to start tracking contractions. They are coming anywhere from every 2 to 6 minutes apart.
Luckily, I have lots of labor and delivery nurses as friends and I asked one of my really good friends to come check on baby at one point when I got nervous about laboring at home. She reassured me that baby was doing great! I needed that little bit of reassurance and am so thankful I had her there for me.
3:00 pm
I've transitioned from smiling and laughing to getting in-the-zone between contractions. I'm trying multiple positions in order to get comfortable. Pacing the room worked for a while but I needed a way to rest between contractions.
In order to get rest, I sat on the birthing ball throughout contractions and then leaned forward on my bed, rocking my hips on the ball when we were in-between.
At this point I started to wonder if I should think about heading to the hospital but I just didn't want to go in too early. I felt like if I got to the hospital and wasn't satisfied with my cervical exam, I would be less likely to succeed in turning down an epidural for the remainder of my labor. Laboring at home is always a better option when it comes to avoiding pain medication (for obvious reasons).
I told my husband that I wanted more time at home. He and my photographer started to feel concerned that I might wait too long and they encouraged me to head to the hospital at this point. I compromised and said that I would try laboring in the shower for a little while and if I didn't feel like it gives me any relief, I would head in.
So, I got in the shower and it felt so good! I stayed there for a few intense contractions before I got nervous that maybe I was waiting too long. My fear was that my water would break and I wouldn't be able to make it the 30 minute drive to the hospital. So, I got out of the shower and got dressed.
I was being stubborn and still didn't want to leave the house so I said "let me try to get through two more contractions here and then I will decide if I need to go or not". Well, the next two contractions were so intense that my low moans were completely uncontrollable.
Ok, fine. It's time.
We Headed to the hospital
4:00 pm
I am so glad that we left the house when we did because that 30 minute car ride was BRUTAL! So far during my labor I had been able to stay off of my back. Tragically, there is pretty much no comfortable and safe way to be in the car and not be on your back! So, I suffered!
Every red light or traffic jam was like the end.of. the. world. I could not tolerate contractions in the car at all.
The reassuring thing, though, was that I knew I was not in transition because of my demeanor between contractions…
Between contractions, I comforted my husband who was nervous about getting me to the hospital on time. He apologized at every red light and tried to assure me that he was getting to the hospital as fast as he could. Although during contractions I was moaning and whining that my back was killing me, between contractions I was saying "it's ok, we have time, just drive safe." If I was in transition, those words would be very different.
4:30 pm
We arrived at the hospital. I had a difficult contraction in the elevator on the way up to the labor and delivery unit and by the time I arrived at the front desk, I was red in the face and probably looking pretty tired. The secretary said "oh, Heather, you're in labor. I can see it on your face".
I got checked in and got into a room right away. I am so thankful for the love that is shown to me by my labor and delivery family. I don't know what I would do without them!
Funny thing is, the entire time that I checked in, I didn't have one single contraction. I talked to the nurses and smiled and exchanged pleasantries. They probably all thought that I wasn't laboring at all at that point.
Once I got to the room, my labor picked right back up where it had left off.
Admission
As I got checked into labor and delivery, I had to be placed on the external monitors to track contractions and monitor baby's heart rate. This was difficult at first because I was placed on my back in bed. Thankfully, my nurse was wonderful and offered me to stand at the bedside to labor off of my back.
Although standing at the bedside didn't accurately track my contractions, my nurse was able to see how often my contractions were coming by my reaction to each one. Luckily, as I labored standing by the bed, the fetal monitor was still able to trace baby's heart rate and I was allowed to continue laboring in that position for a while.
During the admission process, they checked my cervix. I was really hoping for 6 cms. That was my goal. Well, it doesn't matter what my goal was because my body had a different idea. I was 4cms dilated, 80% effaced, and at -1 station. Yikes.
Being only four centimeters really disappointed me. I was questioning whether or not I should even be at the hospital at this point since I had more than half way to go.
The Provider Makes all the difference
I had my husband communicate with my midwife who offered to come in for me when the time came. My husband was texting her and she let him know that she would come as soon as she could. In the mean time, there was a different midwife that would be able to take care of me if needed.
The midwife on-call came into my room to do her assessment and ask me a handful of admission questions. While she was talking to me, I was standing next to the bed that I had elevated to be almost as high as it would go so that I could lean over onto it during a contraction.
I let her know that I was trying to have an unmedicated childbirth. She clarified "no epidural?". I was clear. "No thank you."
After a couple of minutes, I had a contraction that I needed to focus on. I stopped talking to her, leaned over the elevated bed, and let out the controlled, deep "oooooooh" that had been helping me so far. These moans are not a cry for help. They are a coping method that actually helped to relax me.
Well, I must have made the midwife either uncomfortable or doubtful because she immediately said "reconsidering that epidural?" as soon as I was finished with that contraction. This comment made me sad for about 5 seconds. I couldn't believe that a midwife would doubt her patient so soon in the process of labor. I had only just arrived and had mentioned a natural labor minutes ago.
Although I was disappointed in that interaction, I had other things to think about so I quickly got over it. I just said "no" and moved on, thankful that my midwife would eventually be here.
My Midwife Arrived
The midwife that I had chosen to be a part of my birth finally arrived an hour and a half after my admission. I was so thankful that she came so quickly! When I saw her face, she looked like the most beautiful angel I had ever seen. I knew that having her there with me would help me achieve that unmedicated childbirth that I wanted.
So, at this time it's around 6:00 pm. The past hour and a half I have been experiencing hard labor and I was desperate to hear my midwife tell me that I was significantly farther along than 4 cms dilated.
Thank you Jesus, she told me that I was 7 cms. She looked me in the eye and said "I am so proud of you. Just remember that 7 to 10 is the hardest part of labor but it is also the shortest. You can do this".
You don't know how important it was that she said that unless you've had a baby before. That kind of reassurance is EVERYTHING to a woman who is doubting her ability to deliver her baby.
In order to get to this point, I was using a number of coping methods. Let's talk about those.
My coping methods
Position
The biggest coping method that I was using during my active labor was the position that I found to be the most helpful. I was on my hands and knees in bed with the head of the bed elevated. I had pillows supporting my chest and belly and my arms were resting at the top of the bed. During a contraction, I would pull myself onto my hands and rock my hips back and fourth.
This position and movement helped loosen my muscles, allowed baby to move into optimal position, and helped keep my baby off of my back.
Once I found this position, I didn't get out of it. I stayed here for every single contraction that I could. The only reason I moved from this position was to help the nurses monitor me occasionally.
Noise
The noise that I found to be my go-to coping noise was a long, deep, consistent "ooooooooh" that lasted as long as I could hold it. My husband often reminded me to take deep breaths and breathe between "oooh"s.
Making noise made a huge difference. Trying to force myself to be quiet, just breathe, speak, or do anything else was impossible. Letting out my coping sounds was incredibly helpful. It almost hypnotized me. It drowned out other noises around me and kept me focused on what I was doing.
Counter Pressure
My husband, God bless him, learned how to use counter pressure to help relieve some of my labor pain.
If you don't know what counter pressure is, how to use it or why, check out this informative post that goes into the details.
The counter pressure definitely helped me cope with the pain of each contraction. It didn't take away the pain but it took some of the pressure off of my back. It was SUPER important to me that my husband had his hands on me through each and every contraction during active labor and even transition.
My own playlist
I made sure that I packed my bluetooth speaker in my hospital bag and I am so thankful that I did.
The moment we got checked into our room in labor and delivery, my husband set up my favorite playlist to play throughout my labor.
Although I never really paid much attention to it and I could never tell you exactly what song was playing at any given moment, it acted as a tolerable white noise that helped me get into my zone and feel as comfortable as possible in a very uncomfortable situation.
I made sure I was as comfortable as possible
"Comfortable" is not a word that typically describes labor. Trust me, I did not have the delusion that I would ever truly be "comfortable" when having an unmedicated childbirth.
BUT…
Where you can make yourself comfortable, you should.
In order to make sure that I was never distracted by discomfort, I did a few simple things:
I wore my own hospital gown that kept me covered no matter what position I got into
My husband always knew where my comfort items such as chapstick was in my hospital bag
I never had visitors in my room that I didn't want there
I used a portable fan
After seeing a few of my own patients use fans in labor, I bought a simple, battery powered fan that could clip onto the side of the bed. It was the best money I spent for my labor, by far.
That fan blowing on me as I was mid-contraction was a little piece of heaven. Get the fan if you're having a baby. Get it.
I used hot packs
Using a hot pack on my lower back throughout my labor felt amazing. I absolutely loved having heat on my back to take the edge off some of the pain.
Whenever the hot pack cooled down, I asked for a new one. It was either really helping or it was a distraction for me. Either way, I needed it.
My Hospital bag
Laboring is hard enough. In order to make it just a tad easier, you should make sure you pack your hospital bag in such a way that will help you, not hinder you.
Find out what I put in my hospital bag the second time around with this post.
Transitional Labor
Forty-five minutes after my midwife told me that I was 7 cms, things started to feel different. The pain changed and I felt the position of my baby shift.
I knew that it had been less than an hour since I had been checked so I didn't want to get my hopes up that much had changed but I at this point I wasn't sure how I was going to continue.
At this point, I told my nurse that I needed help. I didn't know what I expected her to do or what I thought I wanted. All I knew was that I needed her with me and I wanted her to know that things were different now. She offered me an epidural but thankfully, my husband reminded me that I was in transitional labor and that this was all almost over.
Instead of getting pain medication, I asked to get up to use go to the bathroom. There was so much pressure down below that I thought that I had to pee. Yep, pee. You hear over and over again that when it's time to push, you'll feel like you have to poop. For me, for some reason I really just wanted to pee.
My nurse said that she would allow me to get up to the restroom after she checked me just to be sure I wasn't complete. She checked me and let me know that I was still bout 7 or 7.5. Grrrreat. So, I got up to the bathroom.
The thing is, the moment I sat down on the toilet I knew that I wasn't going to pee. My body started to push.
I called over my nurse and said "I'm feeling really 'pushy'". As soon as I said those words, my body just started to push on the toilet. I could not control it! My nurse hurried me back to the bed and called the midwife.
Pushing
Once I sat down in the bed I began to feel like I was having one long, never-ending, intense contraction. I just wanted it to be over but I knew that I didn't have long before I met my baby.
My midwife came in to see if I was ready to push. She checked me again (only minutes after my nurse had checked me) and I was 9.5 but my water bag was still intact.
When my midwife offered to break my water, I should have been eager to get things over with but instead, I was nervous that the pain would get to a point that I would not be able to handle after she broke my water. I was irrational, telling her that I was scared and I didn't want my water to break.
Thankfully, my midwife talked me down and insisted that she break my water so that we could just have the baby and be done!
Once my water broke, my midwife and my labor nurse positioned me in a squatting position with my husband supporting me from behind and a birthing bar in front of me to hold onto.
My baby was born
I pushed for two contractions and delivered my sweet boy six minutes after my water broke. Thank God, I didn't have to push for long. I had pushed for three hours with my first baby and was scared of pushing without an epidural this time around.
I have to tell you something. When you go into labor, your nurse is going to tell you not to be afraid of pushing. SO MANY women are terrified of pushing even after they have ROCKED labor. I try to tell my patients all of the time that pushing is typically a relief to most laboring women and that it shouldn't be something to fear.
Well, now I know for myself through my own experience. IT'S SO TRUE. Labor is 10x worse than pushing. Honestly, once I started pushing, I was all business. I knew that as long as I pushed with all of my might, my baby was going to be born and I would no longer be in pain.
That's exactly what happened.
My sweet baby boy, Elliot, was born at 7:06 PM and I had never felt happier in my entire life.
How I Felt After Having An Unmedicated Childbirth
Birth in and of itself is incredible. No matter which way you do it, you are a superhero. Whether you do it unmedicated, slightly medicated, or have a C-Section, you just birthed new life. Congratulations!
But I have to say, for me, when I did it unassisted…it was magic.
I was on cloud nine while holding my little miracle in my arms and I stayed there for a long time. I literally couldn't stop thinking about how incredible my experience was. Every detail of my birth kept replaying in my mind and I couldn't believe that it had happened to me. Not only did I do it, but I did it with without any medical intervention.
That shouldn't be so amazing to me. Women do this every day all over the world. It's the most common miracle. But over the years and with so many medical advancements, it is more common to see medically assisted childbirth.
The magic of unmedicated, unassisted childbirth is something that nothing else can compare to. It's a feeling that I wish every woman would get to experience if they have the desire to do so.
I walked around for about a week feeling like I needed a shirt that said something like "I am woman!" or "Strong as a Mother" or something of the like. I mean, I felt so badass for doing something incredibly common. Something so basic that it has been done since the beginning of time. But you know what? Whatever. Any woman who feels powerful after giving birth deserves to feel that way. Am I right?
Leave a comment below and tell me what your childbirth was like or how you feel about the possibility of doing it unmedicated!