How To Choose The Best Pregnancy Journal and Make The Most Out of Your Precious Memories
Pregnancy is such a special and limited time in our lives. I can't imagine a better way to capture your thoughts, feelings, experiences, and photos than with an intentional, thought out pregnancy journal.
As your body grows along with the baby, your heart grows with it. The further on in your pregnancy you get, the more invested, more excited, and more sentimental you'll become about this experience that brings life into the world.
Even through the tough parts of pregnancy, mothers come out of it with an appreciation for their pregnancy that they never thought possible. The memories of our pregnancies, however distant, bring a smile to our faces as we remember what we went through in order to add another unique personality to our family.
As mothers, we will be telling our stories about our pregnancies, our birth experiences and the details of our early motherhood journey for the rest of our lives.
The problem lies in that we forget the small details. We forget the little things. It's easy to forget how we felt in the every-day.
That's why a pregnancy journal is necessary in making sure that all of our important moments live on after our babies come and each pregnancy ends up being a blur in the back of our mind.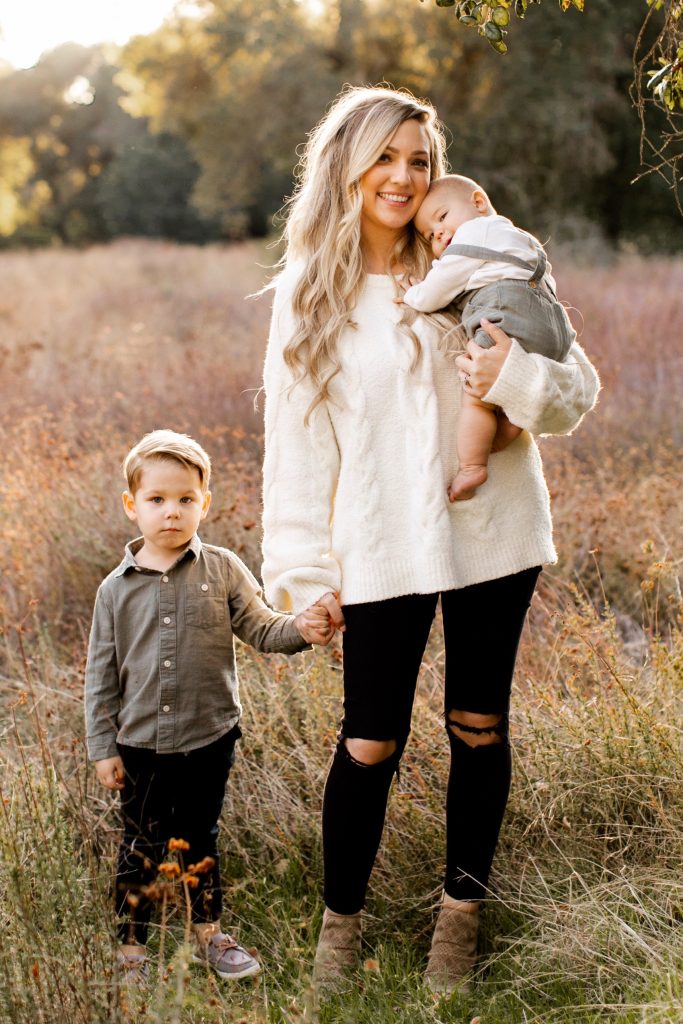 Please note: The views on this website are personal opinions only and do not represent the opinions or policies of any provider or institution that I am affiliated with. I am not giving medical advice. Information on this website is not intended to diagnose, or treat any form of any disease. This article is for informational and entertainment purposes only. I am only telling you what my experiences are. Please refer to my Disclaimer Page for more information
This post may contain affiliate links. Learn more here.
What is a pregnancy journal
A pregnancy journal can be so many things. It can be anything from a notebook you picked up at the 99 cent store to a detailed scrapbook that you made yourself.
As long as you're writing down the special moments on a consistent basis throughout your pregnancy, you are keeping a pregnancy journal.
Why Do you need a pregnancy journal?
If I can promise you anything, it's this:
You'll never remember everything.
You are going to realize in a couple of months when someone asks you when you first noticed a bump under your clothes, how many weeks you were when you felt your first flutters, and when your nausea finally went away that the details quickly fall away.
I began to notice more than ever that my memories of my first and second pregnancies were foggy when I got pregnant with my third pregnancy. It was easy to get the details of all three pregnancies mixed up. I started to forget which experience was from which pregnancy.
Luckily, with my first pregnancy, I had written in a journal to document my pregnancy. I picked up a cute blank notebook from Target and just started writing. Now that my son is almost three years old, I am so incredibly thankful for this notebook. It's stuffed full of ultrasound pictures paper-clipped to the edges, fetal heart tone tracings are tucked in the back, and a couple pictures are glued here and there to the pages.
Being pregnant with my third as I write this post, I look back on this notebook all of the time. I look back to see how similar or how different these pregnancies are. I read old entries to remember when symptoms stopped and started. It's an incredible opportunity that I have to re-live such a special time in my life.
How to choose the right pregnancy journal
Now that you know what my first pregnancy journal was like, I'm going to tell you what I think is important when it comes to journaling your pregnancy.
Although a blank notebook from Target can do the job, you might miss out on some of the best parts of what a pregnancy journal can really be.
It's Specifically For Pregnancy
Journals that were created with the intention of serving pregnant mothers are far greater than a blank notebook.
Pregnancy journals usually have features that you may not have thought of yourself when jotting down your thoughts onto a blank page.
It's digital
Right off the bat, I'm eliminating most of the journals on the market. Sorry, but digital Pregnancy Journals are superior for so many reasons! Hear me out.
With a digital pregnancy journal that can be printed and re-printed you'll be able to:
Re-print pages that you made errors on instead of scratching or whiting out mistakes
Print more pages when you get wordy and run out of space
Re-organize the journal to create a system that works for you
Print more pages when you go past your due date
Make duplicate pages to take with you to the doctor's office (or anywhere else)
Take a page from over here and put it over there instead
Never run out of room in your journal. Ever.
Ok, so those are all good reasons, right? But what is the biggest benefit to getting a digital pregnancy journal? Hello!?
You can use it again with every pregnancy after this one!
Just save the PDF to your computer and pull it up in a couple of years when you find yourself pregnant again. Press print. Voila! You have another journal to take you through this pregnancy and the next.
It's customizable
Here's the thing. How many weeks are you? 4 weeks pregnant? 21 weeks pregnant? 36?
I wouldn't doubt any of those answers. A pregnant woman might start searching for ways to document her pregnancy in a pregnancy journal at any stage.
You're going to need a journal that allows you to start documenting wherever you are in your pregnancy. Who wants a bunch of blank pages in their journal? No one.
I would advise you NOT to get a journal that is bound with pages specific for each week in order. For example, if you buy a physical notebook from the book store and their pages are labeled "4 weeks", "5 weeks", "6 weeks", not only will you feel obligated to fill in the weeks that you may not remember so well, but you'll also feel like you have to journal at those specific times in your pregnancy just to fill the book.
Instead, find a journal that you can document in every day, 3 times a week, once a week, once a month, or any other interval of time that you feel appropriate for your lifestyle and your pregnancy.
If you want to place a bump pic in your pregnancy journal every week or once a trimester, you should be able to do that with the journal that you choose!
It offers pregnancy help
A journal that helps you savor your pregnancy is one thing, but a journal that helps you through your pregnancy is even better.
If you can find a pregnancy journal that offers you tips, tricks, or help with a few of the thousand things on your plate as a pregnant mama, you've really hit the jackpot.
Here's what to look for:
To-Do Lists
Pregnancy is long. But it is also so short! By the time you think it's probably appropriate to start getting some stuff done to prepare for the baby, you'll blink and suddenly you'll be term, scrambling to make sure everything gets done correctly and in time.
Find a pregnancy journal that offers you To-Do lists to help you manage your seemingly never-ending list of things to get done before you bring a baby home.
Look for either trimester to-do lists or to-do lists that help you through each small stage of pregnancy to make sure you are on the path to preparedness from the very start.
Pregnancy Checklists
To-Do lists and Checklists are very different.
Pregnancy checklists will help you be certain that you have everything you need for what you are about to go through.
Checklists that might be helpful to look for in your pregnancy journal are:
Baby Shower Checklists
Hospital Bag Checklists
Baby Registry Checklists
Postpartum Checklists
Advice from a labor and delivery nurse
I'm biased, I'll admit.
I am a labor and delivery nurse. More importantly, I am a mother. I know how valuable advice can be when it comes from someone who knows what they're talking about and has been there themselves.
Most pregnancy journals out there aren't going to have this bonus. Your options are probably pretty limited… but certainly not impossible!
If you think that you could benefit from tid-bits of advice from someone trustworthy, then you should think about buying a product that offers that in the price.
A Pregnancy Journal that asks questions
I love this one.
As you jot down your memories, your thoughts, your feelings, your symptoms, etc, you're bound to leave something out unless being asked specifically.
Find a journal that doesn't only have blank journal pages for you to fill out on your own. A journal that asks you how your feeling, what you've been doing, and what you've been craving (etc, etc) can make all the difference. This can be helpful when you look back and get the full picture of what you were going through at each stage of your pregnancy.
A Pregnancy journal that keeps you organized
Some pregnancy journals do a great job at keeping you organized throughout the whole nine months of changes that you're experiencing.
One way that it might do this is if they offer a calendar for you to fill in appointment reminders, important dates, and other events that you might need to organize on paper in order to get organized in your mind.
Another way that your journal might keep you organized is by separating your trimester entries for you, reminding you at what times during your pregnancy you might be expecting big things to be happening, and when you should be thinking about the next milestone.
If the journal you choose to take with you on your pregnancy journey can do these things for you, you're going to feel so much better about making sure you're always on top of things.
A pregnancy journal that keeps you on track
Similar to getting organized, staying on track is hard when you're pregnant. There are a million things to keep track of when you're growing a baby.
A few ways that your pregnancy journal can help you stay on track is with:
Appointment trackers
Places to document your growth, vital signs, and overall health at each stage
Reminders on how your baby is growing at each stage
Kick-Count trackers
Ultrasound trackers
A pregnancy journal that is sentimental
This is the whole reason why you want a pregnancy journal, isn't it? You want to document what's special to you. You want to make sure that you remember the moments that mean the most.
Find a journal that gives you a special way to hold special moments close to your heart forever.
Some sentimental features of a good pregnancy journal are:
Week by week journaling opportunities
A pregnancy Countdown
Letters to baby
Photo areas
A pregnancy journal that Makes life easier
Overall, this is what really matters. If nothing else, just pick a pregnancy journal that will make your life as a pregnant mama a little bit easier. Even if it's just a little bit here and there, any help is better than nothing.
Whether you just need a place to write or you want a journal that you can refer back to, just make sure you're getting what you deserve when it comes to cherishing your precious memories of this pregnancy.
The uLtimate Pregnancy Journal & Planner
When I was pregnant with my second pregnancy, I searched high and low for a pregnancy journal that would meet all of these requirements. I knew that I didn't want to go the same rout that I had gone with my first pregnancy. I wanted something more.
It turns out that I lost that baby at the end of the first trimester. I never did find the journal that I needed.
Since I never did find a journal that made me light up about it, I decided to create a pregnancy journal of my own. I wanted to make sure that what happened to me, wouldn't happen to anyone else. There needs to be a journal on the market that has everything a pregnant woman wants and needs! We shouldn't have to compromise when it comes to cherishing these moments that we will never get back with the pregnancy we are in.
I knew that pregnant mamas like me need a pregnancy journal that they can be excited about. I also knew that if I were to get pregnant again, I would start documenting right away so that I could never forget how that baby made me feel right from the beginning.
Well, I got pregnant for a third time while I was creating The Ultimate Pregnancy Journal & Planner. This journal is special to me because I was working on it at the same time that I was growing my second son!
Currently, as I write this post, I am only weeks away from delivery and have been filling out my pregnancy journal each week. Mother to mother, I can tell you that it's exactly what you're looking for.
WHat's different about the ultimate pregnancy journal?
What's different about this journal is that it has everything!
Everything that has been mentioned in this post is included in the price of The Ultimate Pregnancy Journal & Planner. Plus, so much more.
The best Pregnancy Journal You can find
If you're ready to dive in and start making the most out of your precious pregnancy memories, use the code IMREADY10 to get a 10% discount right now. Click here to check out The Ultimate Pregnancy Journal & Planner and enter your code at checkout.
I hope you love it as much as I do.
I'm so happy to be able to provide a pregnancy journal that every mama can get on board with. It's so important to remember our pregnancies in detail and hold these moments close to our hearts long after our child bearing years are over.
Let me know in the comments what you're experience has been with keeping your pregnancy memories alive. If you have my pregnancy journal, let me know!