31 of the Best Non-Toy Gift Ideas For Toddlers
The time has come, y'all. It's Holiday season. This year, I started putting together my two year old boy's Christmas wish list when my husband said "This house does not need any more toddler toys!". But who said anything about toys, right? So, I immediately started searching for alternative gifts for 2 year olds. I'm thinking that this year's wish list theme is going to be non-toy gift ideas for toddlers.
I totally get where my husband is coming from. Does anyone else feel like the holiday season rolls around and you find yourself thinking. "I need some really good gift ideas for toddlers who have everything." Because it seriously seems that way sometimes, doesn't it? What else is out there that we don't already have stowed away somewhere that our toddler played with for a week and then forgot about?
What's wonderful about non-toy gift ideas for toddlers is that you'll find a lot of useful gifts for toddlers instead. Rather than having another plastic thingy that makes noise for a while until it breaks, these things will actually be doing my toddler some good.
That all being said, what is a toy? As I made this list, there were some things that I wondered "do people consider this a toy?". Ultimately, if it's on the list then I decided that it was worth being here.
This post contains affiliate links. Click here to learn more.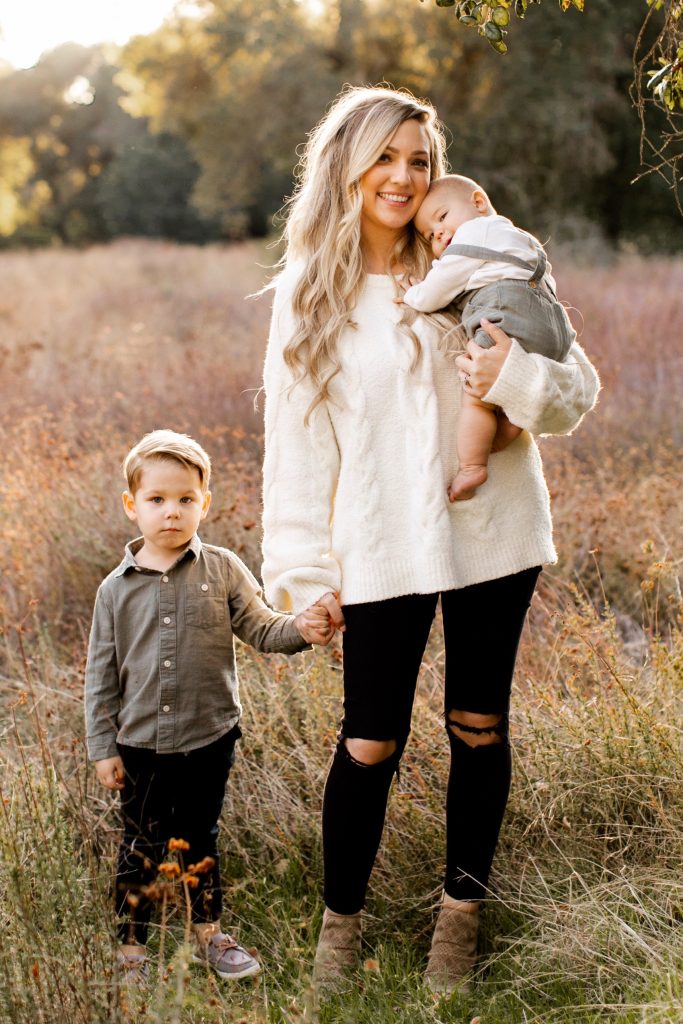 Non-Toy Gift Ideas For Toddlers
Fun Non-Toy Gift Ideas
1. Subscription Boxes
I love, love love subscription boxes for everything. They just make life easier and they are so exciting to get at your door every so often! This gift will keep on giving every month. It will show up at your door with fun new things that are hands-on and imaginative. You can choose a box that works for you.
Yes, yes, yes. This is genius. This bean bag chair is amazing because it's designed to be stuffed with all of your toddler's stuffed animals. My son is obsessed with stuffed animals. He LOVES them and would be happy if our house was overflowing with them. But instead of our house overflowing, we could just stuff this bean bag chair full of them and they will all just be a zipper away if he ever missed them. (p.s get the extra large one and you could even throw extra blankets or pillows in there for storage as well! WINNING!)
My little stinker has two toddler-sized chairs of his own. One of them is personalized with his name and the other one is this adorable dog-shaped chair. When he was younger he used to hug it like a stuffed animal. He's had it since his first birthday and he absolutely adores this chair. Its low enough to the ground that a very small toddler can sit down on it easily but big enough to grow into.
I adore having his own chairs around because he has a special little space to sit and read, eat his snack, or watch a movie in. We move the chairs around all of the time depending on where he wants to be at that moment. They are so useful and versatile; I love them.
We have a play house and a slide in our backyard and it can literally keep your two year old busy all day long. He is such a curious little guy with a huge imagination. Playing outside just feels so much better than being cooped up all day. If you have the space and budget to allow it, this gift will pay you back time and time again with how much use they will get out of it. You can go massive, medium, or simple here.
Now, let me preface this by saying that if there were just stickers all over my son's room, it would literally make me twitch. But these beautiful wall murals are different. These are incredible pieces of art that really can make the entire room something special. This will be a special gift that your toddler gets to look at and enjoy every day in his very own space. If you have a theme going in your toddler's room, I'm sure you can find a wall decal to match. There are so many cute options!
There is a wall in my son's room that has a small gallery of frames pictures, and wall art. Logan is obsessed with it. He points at it, asks me about it, and has me read one of the quotes to him almost every time I am changing his clothes.
A great non-toy gift idea for toddlers is something that they can put on their wall and look at, read, or admire every day as they wake up in the morning. You can find the absolute cutest wall art for kids here. They range from all different shapes, sizes and themes. I'm sure you will find something that you and your little one will love.
So, we kind of lucked out in this area so far because the white noise machine that we use also projects stars onto the ceiling. Even though we already have this, I had to put in on the list because of how much those darn stars make my toddler happy. He never lets me forget to turn on the stars every night. He looks at them and points at them as he's laying in bed awake. It is precious. If I didn't already have a light projector doing it, I would absolutely have these stars on our list this year.
Practical Non-Toy Gift Ideas
It's a bit of a tradition in our family that we get to open one gift on Christmas Eve. It's always pajamas. Their might be a little something else thrown in there with it, but pajamas it is…every time. It's actually fun and I always looked forward to that one present on Christmas Eve. As kids, those were the jammies that we wore to bed on Christmas Eve and opened our presents in them in the morning. I think it's a sweet tradition. Pajamas are definitely going to be under the tree for my little one this year and I'm going to take it one step further and make all of our pajamas matching.
I'm always in need of some new towels. Bath towels get worn out and need to be replaced every once in a while. This can be a fun gift for toddler boys or girls. Get them personalized with their name or do a color coded set for each child to make them feel special. I love these hooded ones for my little guy!

10. Savings Account or Stocks
Sometimes, for birthdays or holidays where I know my toddler will be getting many gifts, I set aside money for my child's personal savings account that we created for him when he was born. It's also an easy gift for grand parents and extended family to give without having to shop. They might not realize it now, but your toddler will thank you for this later when they get to reap the rewards!
I would go with something that you wouldn't typically buy. Something fun and exciting for your child to open on Christmas morning. My son loves shoes and is always asking to put them on. These adorable kicks would be a huge hit for any toddler to open up.
Perfect as a stocking stuffer and completely necessary! Protecting your child's eyes from the sun is important at every age. The best part is, toddlers (or mine, anway) love to put glasses on their face. It doesn't matter if they fit or not, they think it's so fun to wear glasses like mommy and daddy do. These super-cute toddler sunglasses are to die for! Get your little one their own pair of cool shades this Christmas and use them all year long.
Useful Gifts For Toddlers
Hey, you've gotta have them. Why not get ones that they will love to eat with? You can go with a dining set that has your toddler's favorite character on it, or just their favorite color. Either way, they are bound to get excited for their next meal knowing that they have brand new utensils of their very own. This set is my absolute favorite because it is made with bamboo, is eco safe, and you can stick it right in the dishwasher. Not to mention they come in three adorable options.
Now that your toddler might be starting to potty train, they are hopefully learning to wash their hands by themselves too! My two year old can't reach the sink quite yet but he loves to wash his hands. This personalized step stool will be the perfect non-toy gift idea for toddlers. Washing their hands or brushing their teeth, this stool helps lift them up just enough to start feeling a tad more independent in the bathroom.
For toddlers especially, this can be extra exciting because it could be their first bedding set ever! Logan is still in his crib for now but I don't think he will be for much longer. A bedding set with matching blankets and pillows will light up his life, I just know it. If the transition from crib to bed is difficult, well, at least he will be excited about his new bedding.
16. Something to prepare them for their next big outing or vacation
Going to Disneyland? Is a vacation just around the corner? Do you have plans for the wild animal park next weekend? A gift that represents the exciting adventure that you will soon have together will be an exciting gift that amps up the anticipation of what's to come. You can grab a cute set of Mikey ears, a nice coat for a winter vacation, or a piece of luggage for your summer get away.
Remind your little one about what there is to be excited about and why this gift is so great! Pulling it out when the time comes will get your toddler that much more amped up for the trip!
If you're looking for non-toy gift ideas for toddlers, then chances are that your toddler has a lot of toys. A good toy box can change everything by decluttering and organizing your toys in such a way that your toddler can actually find what he's looking and you aren't losing your mind trying to find a place for all of your kid's things.
I love this one because it is simple and clean-looking. It goes with any style and doesn't stand out like a sore thumb like some other toy boxes. Plus, it has a safe lid that won't smash little fingers when it closes.
Sentimental Non-Toy Gift Ideas
Kids love to see the evidence of how fast they are growing. Their life's mission right now is to grow and be "big". It's adorable to see how excited they get when they've grown. I have been measuring my son's growth at certain milestones but I just got him a growth chart to document his measurements on! Growth Charts can be such a wonderfully fun gift idea that will last for years to come. With all of the markings on it after 18 years, this gift will be more for you than for your toddler! These are memories that you will have forever.
This is the growth chart that we went with and it is perfect. It fits perfectly on a small wall in our kitchen. We chose not to personalize it with a name, but instead the sweet "Love Grows Here" inscription. I think it will be absolutely perfect for Logan and any future children we might have.
This can be a sweet, personalized gift that your toddler will be excited to use at every chance he gets. Playing with coins shouldn't go unsupervised, but you can always give your toddler the spare change you find around the house or give them a certain amount every so often and let them know that it's time to put it in their piggy bank!
This one is not a piggy and it's not your traditional bank! It looks like a sweet little stuffed animal but it has a slot to put coins in. When you drop the coin into the animal, it makes an animal sound! I love the elephant one. This is a unique gift that isn't the same ol' piggy bank that everyone else has.
Toddlers are definitely at the age where they want a night light. I think it's so interesting how newborns need a pitch black room to sleep and suddenly as they grow into little monsters toddlers, they start to feel more comfortable with a little bit of light in their room.
This night light is so cute and fun. It's not only a light, but a fun way to interact with mom and dad before bed. You can leave them a sweet note before bed and they will have it all night long. It serves as cute decor and a useful light. It also has multiple dimming settings.
Best Educational Non-Toy Gift Ideas
Reading to and with your toddler is one of the best things that you can do for them from the very beginning. I know that it can be exhausting when you're on your 20th book of the day, but a new book is a great way to get their imaginations working in a whole new way again. Plus, they last forever and can be passed down from sibling to sibling. You can't go wrong with books, but you should absolutely check out my post all about my favorite books that we read our toddler.
Audiobooks are amazing at any age. But for your toddler, it will be so nice to have a master storyteller reading your child a book he loves on long car rides or any time that you've read aloud one too many books yourself. Using Audible is amazing because your little tike can listen to his favorite books any time and anywhere narrated by a professional narrator. Audible has wonderful options for toddlers and you can get a 30 day membership for free! A free non-toy gift for your toddler? Score!
Interactive Non-Toy Gift Ideas
First of all, my son is obsessed with puzzles so this will be a hit no matter what. Puzzles are great because they really get their little wheels turning and they give the family an opportunity to interact and play together. Since our play room is full of wonderful puzzles that we actually use, I could give you an entire list of puzzles for your toddler that you need right now. Maybe I'll write and entire post on puzzles! But for now, here are a few options depending on what stage your toddler is in right now. One piece puzzles, Two piece puzzles, four piece puzzles, and multi-piece puzzles are all appropriate for toddlers and are great for learning shapes, colors, animals, and so much more. Shall I go on?
Non-Toy Gift Ideas That Facilitate Independence
Oh, the tears are going to start! Our toddlers are at the age where a Tricycle would be their DREAM GIFT. Put it under the tree with a big red bow and prepare yourself for a Christmas full of video of your sweet toddler biking around the yard with his training wheels. Oh, I cannot wait. This is one of those things that will get it's money's worth of use and ware. The best part is, it's another thing to get your toddler playing outside.
You can't go wrong here.
I'm in love with this tricycle from Amazon. It's perfect for a little guy because the seat has some back support.
This was the best money I've ever spent for my toddler. My toddler loves his table and chair set for coloring, eating his lunch, and playing with toys. It's so nice to have a space where your toddler can just climb in without assistance or much guidance. He has such freedom with this set!  Plus, it's something he can really grow into. This is a purchase you'll be glad you made, for sure.
How cute is it to see a tiny person wearing a tiny backpack? Oh my heart! My son has a little Koala backpack that he wore to the Zoo one day and he was so proud that he was able to carry around his water cup and snacks by himself. It was adorable. Plus, preschool and kindergarten is around the corner! Get him excited about carrying a backpack ahead of time and make it fun!
Toddlers love to be right there in the action when mom or dad is cooking in the kitchen. Gift them their very own kitchen tools to "help" you cook and make them feel special and included in the kitchen. Grab a whisk, wooden spoon, and measuring cups or you can pick up this set from Amazon to get them started. After they open their gifts, offer that they help you make dessert tonight!
Non Toy Gift Ideas That Promote Creativity
So far, gift ideas for a 2 year old boy has not included paint because I'm terrified. But…I think this will be the year. My son loves to color. He uses crayons and chalk like there is no tomorrow. I think it's time we upgrade to kid-safe, washable watercolors. This adorable little paint set is perfect for toddlers because it comes with everything you need for this gift idea all in one package! It has paper, brushes, washable paint, an easy to hold paint palette and a wipeable plastic bag to keep it all in. So easy and so fun!
Your little artist will love to have something more to color on that just printer or butcher paper all day long. My son has a few coloring books that he "reads" and colors in frequently. To your toddler, it's more than just paper. These books tell a story and encourage their creativity and will be a fun gift that they can start using right away.
Oh how I loved to play dress up when I was a kid. Putting on an unusual outfit just takes you to a whole new world when you're little. Princess or Pirate, Superhero or Cowboy, these costumes will be fun to pull out to spark some imaginative play in your little one.
I don't know a toddler that doesn't love music. It's practically a part of us from birth. I feel like babies start to understand music and move to the beat SO EARLY. It's insane (and adorable). What's the next step? This absolutely amazing little Ukulele looks like such an incredible idea for a young child. My two year old is only slightly under the age suggestion but it's something that he could grow into and learn to love. If you're not ready for a guitar or keyboard, a harmonica or maracas will do the trick.
The Best Non-Toy Gift Ideas For Toddlers
Ok, mamas, that is all that I have to offer you when it come to non-toy gift ideas. I feel like making my son's Christmas list this year is going to be so much easier now that I've looked into toddler gift ideas that aren't toys.
Don't get me wrong, though.
We are so thankful to have everything that we have. Logan LOVES his toys. He plays all day and reads all night. Without his toys keeping him busy for part of the day, I would probably lose my mind. Toys are not a bad thing. They are actually wonderful in helping our children learn and develop. It's just that every once in a while you just need some gifts ideas for toddlers that is a little more outside the box. That's where I am this year.
What about you? What's on your kid's Christmas list this year? Let me know in the comments!
What To Read Next: