I know first hand that labor and delivery doesn't always go according to a mother's birth plan. You probably have heard this a thousand times. I think this is why we have such a strong desire to control things when it comes to labor and birth. I believe that it's the fear of the unknown. We worry that if we don't plan out our childbirth, then the tornado of labor will hit and we won't be able to maintain control of it.
I get it. Really, I do.
The bad news is that having a birth plan is not going to guarantee you a perfect birth experience. The good news is that having a well written, realistic, customized birth plan tailored to you and your baby will give you that feeling of control in an uncontrollable situation. And if you do it right, you really can have the birth experience you are looking for.
This post might contain affiliate links. To learn more, check out my disclosure here.
Please note: I am not a doctor and I am not giving medical advice. Information on this website is not intended to diagnose, or treat any form of any disease. This article is for informational and entertainment purposes only. I am only telling you what my experiences are. Please refer to my Disclaimer Page for more information
What Is A Birth Plan?
A birth plan is basically your game plan for the big event. It's a document that you and your partner create to lay out your "Plan A". Making a birth plan can keep your thoughts organized and help you remember what your expectations of labor and birth are.
If a birth plan is anything, it is a communication tool used between you and your healthcare team. It expresses what kind of birth you desire and what ideas you have about what you can expect. It helps everyone involved get on the same page regarding your desires and mindset about the childbirth process so that they can support you better.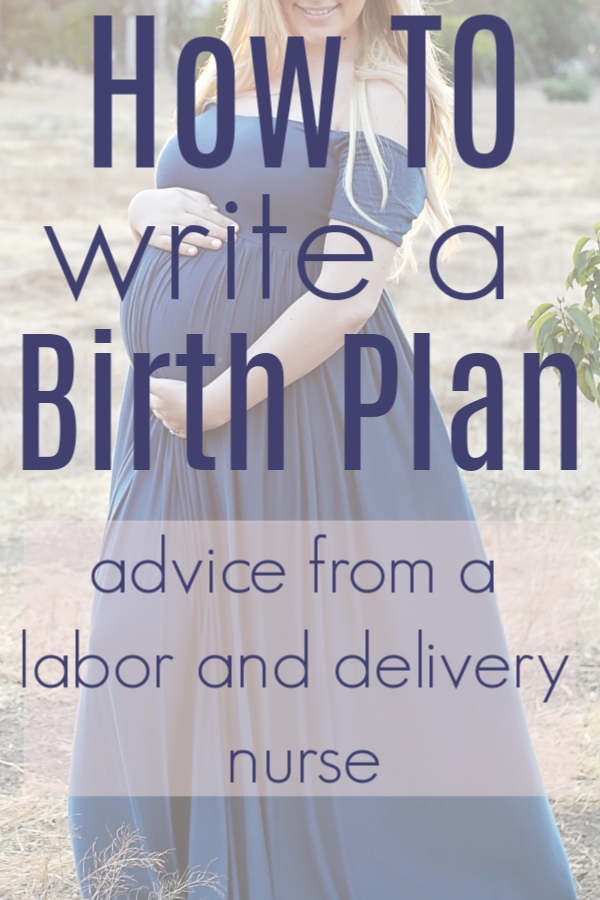 What A Birth Plan Isn't
I think over time the idea of a birth plan has been so warped. These are the things that a birth plan certainly isn't.
A Birth Plan is not a list of demands
If you want anyone to take you seriously, your birth plan cannot just be a list of demands for a group of medical professionals to follow in order for you to feel like you are at home with no one bothering you with safety precautions or medical advice.
I'm sorry, but no matter how many times you write down that you don't want fetal monitoring, we are still going to bother you about checking on the baby. Certain things are done for yours and your baby's safety. Just because you demand that what is medically recommended is thrown out the window, doesn't mean it will be.
A Birth Plan is not the "end all be all"
A birth plan is not the God of birth that has control over every situation you might encounter.
It is your perfect, shiny, golden "Plan A". When something changes, there will be a plan B (or Z). But moving on to a different plan is not the end of the world.
Think about it. It's probably a lot easier to let go of a bullet point on your birth plan right now that it is to let go of the idea of taking home a healthy baby tomorrow, right?
A Birth Plan is not a gift that someone can give you
A birth experience cannot be given to you. It's not something you pay for or something that can be handed to you by the right doctor. A birth experience is something that you WORK for.
If you want an all natural, no augmentation, no medication birth, Great! You'll do well if you are prepped and prepared for it. Let me tell you something. We can't make labor easier for you. We can't make everything go right for you, either.
Your Birth Plan is not the decision maker
That's just the funniest thing I've ever heard in my entire life. A piece of paper in the ultimate resource in the decision-making when you are birthing a child?? What!??
If you think that writing something down on a piece of paper is going to make decisions about anything, you've got another thing coming.
Instead, it is a reminder of the things you hope for and desire. It's a guideline for you and your nurse to try to follow as long as risks and unexpected problems don't get in the way.
There is no ONE decision maker when it comes to labor. Your body makes the decision on how to labor, your baby's health makes decisions, your doctor makes decisions to keep you safe, and you make decisions for yourself in the moment.
A Birth Plan is not a contract
I cannot tell you how many times that I have taken care of couples that have nothing written down but they communicate with me what they want and they end up getting exactly the birth that they pictured.
It happens all of the time. You know why this is?
Because birth plans are not a contract between you and your nurse/doctor. They are not a guarantee. Writing down what you want will not convince your body to go into natural labor, you to tolerate the worst pain you could imagine, or your baby to tolerate pushing.
Should I Have A Birth Plan?
Sure!
If you know what you want and have hopes and requests regarding your child's birth, then, yes! Make a birth plan.
Are you surprised that I just said that? I'm a labor and delivery nurse suggesting that you have a birth plan? No freaking way! Well, I am. I think that it is a smart idea to have a plan for the biggest day of your life. You should have an idea of what you want and don't want. That makes sense to me.
I wouldn't want to dive into childbirth not knowing what to expect, what's going to happen to me or what my options were. It would probably be pretty stressful being in the middle of a contraction not knowing what my plan is for pain or how I will get through the process (or what the process even is).
Listen, labor is HARD! Childbirth is PAINFUL. Take it from Carly at Mommy on Purpose. She wrote a post on the reality of the pain of childbirth. And guess what? She did it without an epidural–the way she planned to do it!
Instead, what you want is to have a prepared mind and an understanding about what to expect out of your labor and the facility in which you are receiving care. A birth plan, written ahead of time and gone over with your provider is a great tool to use to keep an organized, stress-free mind when you arrive on the labor & delivery unit.
It is important to have a list of things that you hope for available to the nurse so that we have a little resource to reference if we have a question and don't want to interrupt your labor process to ask you.
Why Would I Want A Birth Plan?
Sitting down and writing your birth plan brings to your mind things that you may not have considered before and it helps you think of questions that you didn't even know you had. It's actually a great learning tool and a great way to let your team get to know you.
Many of the things on it are probably things that are in our list of questions that we routinely ask our patients anyway. It's nice to have it all laid out there in black an white so that we know who you are and what decisions you've already made. Less questions that we have to ask = shorter admission process = more time to labor in peace. (well, peace is a strong word, but ya know.)
CLICK HERE to instantly download my FREE Birth Plan Preparation Worksheet. It's a great way to start learning about what to put on your birth plan and get a head start on those questions I was talking about.
A good birth plan makes the time spent trying to figure you out shorter. If you have your ideas listed, you wont have a provider in your room right away requesting to do an intervention that we already know that you don't want to have done.
Instead, you will know that if your provider is offering you something that you have already expressed that you don't want, that there is something not going as planned, and you need to listen to the risks and benefits in your situation.
Where Do I Get A Birth Plan?
I've created a birth plan that is good for ANY type of mama, wanting ANY type of birth. If you are the woman who wants to walk in the door and get an epidural right away, it works. If you are the mama that wants to labor without any pain medication and push in whatever position your little heart desires, it works.
There are many birth plans all over the internet, but none like mine. I have perfected it. It's not a checklist of things you can mark off, it's not a bunch of yes/no questions, and it's not rigid.
The problem with the birth plan templates that you can find all over the internet is that they are either: 1) too long, 2) too broad, 3) too complicated or 4) just a bunch of check boxes to mark.
Do you really want to bring in a list of check boxes where many of the items don't apply to you at all? Or would you rather have a list specific to you that includes everything that you want, and nothing you don't on your birth plan.
I would choose the latter.
SO, I've made it simple to create, easy to follow, and respectful to your health care team.
Print it out, keep one for you and one for your health care team, and you're good to go!
CLICK HERE TO CHECK OUT THE ONLY BIRTH PLAN YOU'LL EVER NEED
What is in a good birth plan?
Simple. What's in a good birth plan are the things you have decided (after educating yourself) that you would like to try, like to avoid, and hope for.
The difference between a good birth plan and one that gets pushed aside, is a person who is hopeful as opposed to a person who is demanding.
What isn't in a good birth plan?
I'm trying to help you out here. You don't have to throw out your dreams of having the birth you picture. Just remember to avoid these things in your birth plan:
The Obvious
Many things that are routinely listed in birth plans that you find on the internet are redundant and completely unnecessary.
There are a million things that we already do that don't need to waste paper for. Things like avoiding c-section unless medically necessary, allowing your partner to stay in the room with you, asking for consent before giving medications or performing interventions.
Things like these are all basic standards of care. They don't need to be on your birth plan. We already want these things for you.
The Trendy
SO MANY TIMES I have asked my patient the reasoning behind not wanting to give Vitamin K to their babies or not wanting Pitocin after delivery or not wanting to push on their backs and they have no idea.
Be a responsible human/parent and make sure you know what you are accepting or refusing. The thing that irks me the most is when someone refuses something and when I ask them why they are refusing, they either say "I don't know", or "I heard it's bad for the baby", or even some explanation that is totally false.
If you have a strong opinion about something, then you should know what the intervention is for, why we give it/do it, and why you are opposed to it. Stay informed. You are a mom now and it's your job to protect and take care of your baby in the best way possible.
To some, it's just a cute idea to say the words "delayed cord clamping", you know?
To be clear, I agree with many of the things commonly listed on birth plans. But the difference is that I know why I agree with them. I do not agree with making uninformed medical decisions for you and your child.
The impossible
Avoid putting in your birth plan things that put your lives at risk. It feels weird even saying that. It seems so obvious. There are interventions that we do to prevent things like Category III fetal heart rate strip, stroke, and bleeding out after delivery.
It's probably highly unlikely that you're going to get avoid fetal monitoring, cervical exams, any IV what-so-ever, or the promise of no intervention.
Bottom line, try not to refuse the things that will save you and your baby's life. Mkay?
Explanations
I do want to know the reason behind your decision-making process but it's not something that you'll need to put on your birth plan. Let's just talk about it! Your birth plan needs to be concise and easy to reference.
For example, you don't need to list reasons as to why you don't want an episiotomy. We get it. You'd rather tear through your rectum and poop out of your vagina than have a purposeful cut on your perineum to get the baby's head out.
Fine. Most providers don't routinely do episiotomies anymore anyway and the only reason why they would do one is if they thought that you were going to have a really terrible tear.
…just an example.
Anyway, it's fine to list these things on your birth plan. But instead of listing reasons you don't want something, you might want to mention that if medically necessary or recommended by the doctor, then you would be flexible.
Is There A Right Way To Make A Birth Plan?
There is a way to create a realistic birth plan that your nurses will read and remember.
As a labor & delivery nurse, I've run into just about every type of birth plan you could imagine. Can I tell you something? The best birth plans are the ones that fit on one page. Nurses don't have endless amounts of time to flip through a five-page birth plan for one patient. We've got lives to save, people. 😉
If your birth plan is so specific and complex that the list seriously requires more than one page, your nurse won't remember it all and your work creating it will have gone to waste.
So, what's a girl to do? Not to worry, I've got you covered. Try my customizable birth plan. It has a cover page with some personal information, a one page birth plan that you get to customize yourself, and a visual birth plan to keep in your birthing room to reference with your partner. It's the ideal birth plan and I highly recommend that you use it.
Ask yourself what is important to you
Where do you start? Start with questions for yourself. Ask yourself what you think about all of the options that you have and what decisions you would make, given the choice.
Download my free Birth Plan Prep Checklist to make sure you are in-the-know and ahead of the game. If you answer all of the questions on the checklist, you'll be totally ready to write the birth plan that can actually be a safe reality.
Understand who's in control
Please, as you write your birth plan, remember, we are not in control of everything.
There are things that only your body/baby are in control of and neither you nor your healthcare team can predict or prevent these things from messing up your plans. Things such as your baby's heart rate being non-reassuring, or baby poops inside can really mess up your plans. These things just can't be predicted.
But who else has control over your labor? YOU. You are in control of tons of things like lighting, music, aromatherapy, relaxation techniques, who you want in your room, etc.
And of course, there are incidents that are just out of all human hands. Mother nature has the upper hand. We cannot control your baby's tolerance of labor and you can't will your cervix to dilate. If it's not happening, then maybe you need to hand over some control to your health care team– even though you envisioned yourself doing the most difficult thing you will ever do, without any help at all.
Do your research
You shouldn't blindly trust anyone, honestly. You are about to endure an amazing feat. Imagine that it's pretty complicated to exit a baby from your body? Yeah, it is. You should know what might happen, know what to expect, and know what your opinions are on these things based on research that you have done.
If you go into the hospital informed and prepared, then you are going to do great! The first step is reading informative blog posts like this one. So, it looks like you're doing pretty great so far. Take it to the next step and enroll in an online prenatal course. It'll be one of the best decisions you'll make throughout your entire pregnancy.
Join Me in the…
Loving Your Labor Academy
The online resource to have the birth you've always wanted
Be Flexible
For any mother, first time or not, it can be overwhelming to sit down and try to predict what labor will be like. It's hard to make decisions for yourself before the time comes and before you know what kind of situation that you'll be in.
That's why it's best to be as open and flexible as possible while still expressing all of your desires and concerns with your team.
Be realistic
Having a big list of things you DON'T WANT DONE is usually based upon the thought that everything will go perfectly as planned. That might not be your reality though. Every labor is different, every mother is different, and every baby is different.
The Wrong Way To Write A Birth Plan
To write an effective birth plan, avoid these words: MUST, always, never, WILL NOT, or "not under any circumstances". These things will get you a ticket to the OR before you could say "I need an epidural".
I'm sorry. That's harsh. But it really does seem like the more rigid the birth plan, the more likely for everything to get turned onto it's head and you end up having the opposite of what you wanted. Let's just call it mother nature showing you who's boss.
What Should I Do With My Birth Plan?
Alright, are you ready for it? The BEST advice that I could possibly give you regarding a birth plan? The number one big honcho piece of advice? Here it is:
TALK to your doctor. COMMUNICATE with your nurse. That's it. There you have it. If you do that, you will be pleasantly surprised at how easy it is to get on the same page and have the same goals for your labor and birth.
Your doctor and nurses are real, live, thinking, breathing people. They are not robots that you need to program. Have a conversation.
When things progress, don't hesitate to remind your nurse or doctor what your wishes are. If there is something happening that you have specific feelings about, express them. Your nurse should be happy to explain what is going on.
Step ONE
First things first. Once you make your customized birth plan, bring it to your doctor or midwife's office and let them look it over. Have a conversation with him/her about your expectations and requests to see if you can all get on the same page.
Your health and your specific situation will make certain requests more unlikely. Make sure you know what your situation requires of you before you walk onto the unit with a detailed plan that doesn't make sense for your situation.
Step TWO
Talk to your nurse when you get admitted to Labor and Delivery. Tell her about your birth plan. Have a conversation about it (or have your husband do it) and build a relationship with the person who's going to be helping you with the birth of your child.
Step THREE
When something is offered to you, ask for the risks, benefits, and other options. This will allow you to make decisions based on YOUR LABOR, YOUR BODY AND YOUR BABY. Don't make decisions for yourself based on someone else's perfect labor experience.
Most likely if you have a conversation with your doctor or midwife, they will tell you that they would be happy to follow your birth plan. As long as everything is safe at the time and as long as it abides by the policies that must be enforced at the facility you've chosen to deliver at, there shouldn't be a problem.
If you just try to understand the reasoning behind the decisions we make in the hospital, you will have an easier time making a birth plan that makes sense for both you and your team. It might be YOUR delivery, but we are all involved.
Congratulations, Mama
No matter what the situation, no matter what kind of birth, you are an incredible, amazing, strong, super-human MOTHER that just birthed her child.
Sometimes your birth plan might need a plan B, C, D, and E because, let's face it, things change. But what matters is that the safety of you and your baby come first before any birth plan.
Instead of being attached to the idea of a perfect birth plan, get attached to the idea that you want a safe delivery. I think that makes a little more sense.
Congrats, mama, at the end of this, no matter what happened– you've done it. You are a success story!

Did you have a birth plan? How did it work out? Or are you pregnant trying to figure out what you want on your birth plan? Leave your insight in the comments!
What To Read Next: