It's ok, mama. You're not alone. Almost every new mommy-to-be wonders "is my water broken?" at one time or another during her pregnancy. There are so many times during your pregnancy that you might notice that your panties are a little more damp than you're used to and you can't help but wonder if your water broke prematurely or if your water was the first sign of labor starting.
Since wondering if your water is broken is such a common concern, it's important to understand what to expect, what to know, and what to look for when you think your water might be broken.
In this post you are going to learn how to figure out if your water is broken and what to do when it is.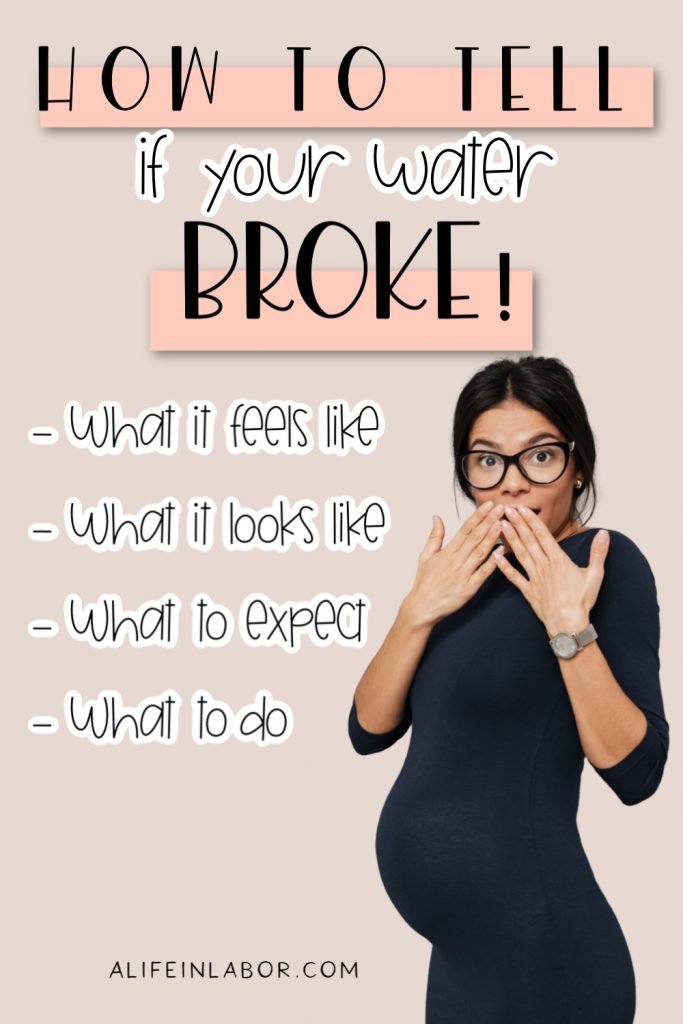 Please note: The views on this website are personal opinions only and do not represent the opinions or policies of any provider or institution that I am affiliated with. I am not giving medical advice. Information on this website is not intended to diagnose, or treat any form of any disease. This article is for informational and entertainment purposes only. I am only telling you what my experiences are. Please refer to my Disclaimer Page for more information
This post may contain affiliate links. Learn more here
Is My Water Broken?
It can be really confusing and really difficult to tell if your water is broken, if you're leaking, or if it's something different. If you're looking for tricks to find out if your water is broken or if it's something else, you're in the right place.
We will go over what it's like when your water breaks, what else it might be other than amniotic fluid, and what your options are when you think your water broke.
How will I know when my water breaks?
If you are suddenly finding that your panties are damp, your leggings are wet, or you're waking up in a puddle of fluid, there are some things that you can do before rushing to the hospital, bag in hand.
Believe it or not, it's not always straight forward when you're asking yourself "Is my water broken?"
How can I test if my water broke at home?
So, being a labor and delivery nurse, I hear people's "is my water broken?" stories all of the time. They call wondering if their story sounds like it could really be their amniotic fluid or not and inquiring if they should come in to the hospital or not.
Unfortunately, it's impossible to know for sure over the phone if your water is broken.
But fortunately, there are tricks that you can do at home to test to see if your water is broken or if it was something else entirely.
Change your wet clothes/underwear right away. Put on something dry so that you'll know immediately if the leaking has continued or ceased.
Put on a pad. Depending on the color and material of your underwear, it might be difficult to tell what the color and consistency is of your fluid. A pad will give you the most accurate idea of what the "water" looks and feels like.
Move around. First, lie in bed or recline on the couch. Then, stand up, shift positions, and move around. Is water coming out as you move? If your water is broken, it will collect and pool in your vagina as you are lying or reclining and then it will come out as soon as you stand up or change position.
Cough. If your water is broken, the pressure of a few hard coughs will be enough to send more liquid out onto your pad.
What does amniotic fluid look like?
Amniotic fluid should be the same consistency as water. Thin, flows easily, and isn't slippery or sticky.
If your water breaks, the fluid should be clear to pinkish in color. Sometimes, you may have some light bleeding when your water breaks if you were laboring before your water broke. But generally, amniotic fluid is not bloody.
As opposed to normal vaginal discharge, amniotic fluid is not thick, gooey, or mucousy. Unlike urine, it should not be yellow or have a strong odor.
How does it feel when your water breaks?
When your water breaks, it can happen in one of many ways that women experience.
Some women experience a "pop" followed by a huge gush of water dumping all over the ground beneath them. Others have a slow trickle that they only notice after the third underwear change.
If you're feeling any of the following things, your water might be broken:
A pop in your belly followed by a gush of fluid
A sudden gush of fluid that you have no control over
Feeling warm water coming out each time you change positions
Constantly having to change your underwear or pantyliner due to dampness
Leakage of fluid that you cannot control (unlike urine)
How much fluid will come out when my water breaks?
This depends on how your water broke. Sometimes, when your water breaks, it is a complete burst with a large amount of water. Other times, it is a slow "leak" because of a small hole or tear in the bag. In this case there will only be a trickle of water at a time without any large gushes.
Did my water break or did I pee?
One of the most common reasons why a pregnant mother gets sent home from labor and delivery when she thought that she was going to be admitted is when her bladder plays a sneaky trick on her.
If your bladder leaks in late pregnancy, you might wonder if it was actually your water. You're not alone, mama. Urine can leak from your bladder because the weight of your uterus sitting on it causes pressure that allows small leaks every once in a while.
There a number of ways your bladder might make you think that your water broke:
You wake up in soaked clothes
You've been leaking throughout the day
When you went to the restroom, you peed and then you felt like it just kept coming uncontrollably.
The trick to how to know if your water broke or if you peed is to figure out a few key things:
Smell it. Does it smell like urine?
Put a pad on. Does it keep coming?
Pay attention. Does it come out when you stand or change position?
Did my water break or is it discharge?
At the end of your pregnancy, vaginal discharge can become more abundant and more watery. This is normal but pretty inconvenient when you're anticipating labor or your water breaking.
You might suddenly notice that your underwear are wet and wonder "did my water just break?"
But there are some things that you need to know before you get too worked up about it.
Normal vaginal discharge might bee clear, white, or off-white but normal amniotic fluid is clear to slightly pink.
Normal vaginal discharge can be creamy, mucousy, sticky, or stretchy but normal amniotic fluid is thin and water-like.
Did my water break or is it sweat?
Are you chronically hot? Yeah, you and every other pregnant woman in their third trimester. If it's been a long day walking around, you may have sweat enough to dampen your underwear.
If you're wondering if your water is breaking or if your underwear are only damp because you're over-heating down below, you're in good company.
But like mentioned previously, it's important to recognize if your dampness is consistent, clear, and odorless.
Did my water break or is it semen?
Surprised to see semen on the list? It's a more common question than you might think.
After sex, if your partner ejaculates into your vagina, it has to come out at some point. If you're noticing small gushes of fluid coming out after recent sex, it just might be semen.
As always, put a pad on and triple check what the fluid looks, smells, and feels like and pay attention to how much and how often the fluid comes out.
What To Expect When Your Water Breaks
Unlike the movies, it's not just "gush and go" most of the time. You might actually have some questions once you realize that your water is broken.
When will the amniotic fluid stop coming out?
This is a really important question that you understand now so that you aren't surprised later.
Once your water breaks, whether it's before labor, in active labor, or after your doctor breaks it for you, the water will continue to come out until the baby is born.
Even if you had a huge gush and you thought that all of the fluid must have come out, it will still continue to come and you will continue to experience gushes until you deliver.
Crazy, right? But it's true.
Not only do you probably have more fluid in there than you expect (unless of course, your doctor has let you know that you have low fluid), but your baby also continues to produce urine, which is what your amniotic fluid is primarily made out of.
When will contractions start after my water breaks?
Although most of the time the water doesn't break until after contractions have already started and labor has begun, it is possible for your water to break before any contractions or labor have started at all.
That's actually what happened to me when I was having my first son. You can read that birth story here.
If your water breaks before contractions start, you can expect contractions to start right away or at least within the first 12 hours. 12 hours seems like a long time, right? Well, it actually is. If 12 hours has passed since your water broke and you still are not experiencing labor contractions, you will probably need a bit of help kickstarting labor.
Typically, though, your body will take your water breaking as a signal that it's time to get that baby out!
If you aren't sure if you're in labor, read this post to get some clarity on what labor really looks like.
What To Look Out For Once Your Water Breaks
Once your water breaks, you're going to need to be continuously aware of how you are progressing. Of course we already mentioned that you should go into labor sooner rather than later but there are a few more things that you're going to want to look out for once your answer to "is my water broken?" has been determined.
Infection
Once your water is broken, the barrier between the outside world and your baby is officially compromised. The risk of infection once your water breaks increases and continues to increase the longer it's broken.
It's important to keep an eye on your temperature to be sure you're not spiking a fever, your heart rate, and your babies heart rate. If yours and your baby's heart rate is elevated, it could be a sign of infection that can influence the rest of the course of your labor.
Cord prolapse
When your water breaks, it's extremely important to recognize if anything else came out with your water.
A cord prolapse is when your baby's umbilical cord slips through the cervix with the water and hangs into your vagina. It might be slight or prominent but either way, it is extremely dangerous.
If you notice that anything is in your vagina after your water breaks or if you notice a pulsating feeling in your vagina after your water breaks, this is an emergency. Stop everything you're doing, get on the ground with your head on the floor, butt in the air and call 911 immediately.
A cord prolapse can result in really serious consequences. Don't mess around if you think that you feel something in your vagina that isn't usually there after your water breaks.
Assess the fluid
Once your water is broken, it is important that you take note of a few important things. You can remember them using the acronym "COAT".
C- Color. Remember, amniotic fluid should be clear or pink. Yellow, green, brown, or bloody is cause for concern.
O- Odor. Amniotic fluid should not have a strong or pungent smell.
A- Amount. Did you have a gush or have you been trickling?
T- Time. What time did it start?
Take these details with you to the hospital when you go because your provider or your nurse will want to know.
Do I have to go to the hospital once my water is broken?
So, long story short, if you plan to deliver in the hospital, then yes, you're going to want to get to the hospital within a reasonable time after your water breaks.
But on the other hand, it's no emergency (unless of course, you're experiencing a concern that we went over earlier). As long as the fluid is clear or pink, odorless, and didn't bring anything with it (aka a cord), you can typically wait at home for a while before you need to head in.
If your water broke before contractions started, you might opt to wait at home for some time to allow your body to start contracting before heading in to the hospital. Talk to your provider before you make decisions like this, but I wouldn't recommend waiting longer than about 4 hours at home without contractions before going to the hospital.
Regardless of whether or not your having contractions, if you feel like you prefer to shower, get things ready, make sure bags are packed, and get the older kids off to a babysitter, your water breaking is most often not urgent and you don't have to necessarily rush right in. As long as you don't feel like labor is progressing quickly or your water is in some way out of the ordinary, staying home for a short time to get everything ready is appropriate.
How long after your water breaks do you have to deliver?
Thankfully, the guidelines for the "clock" that you've heard about are not cut and dry.
Most of the time, your provider is going to want you to deliver by 24 hours after your water breaks. But of course, if you reach the 24 hour mark and you are progressing well, your vitals are stable, and your baby is doing well, you will be able to continue to labor.
It is important to understand that the longer your water is broken, the more at risk for infection that you become. Talk to your doctor about your specific situation and don't worry too much about the clock.
How to check if your water broke
The only way to know for sure if your water is broken, is to go to the hospital to be checked.
If you think that your water might be broken, it's a good idea to come in to be evaluated to be sure.
There are a few ways that we check, double check, and triple check your amniotic fluid status.
Nitrazine test – a little piece of pH paper that changes color to blue when amniotic fluid touches it.
Pooling – your provider can take a peak into your vagina using a speculum. If there is a collection of fluid pooling in the vagina, that might be indicative of amniotic fluid leaking.
Ferning – your provider might take a small sample of the fluid in your vagina with a swab. They will look at the fluid under a microscope. If they see a pattern called "ferning", your bag of water is probably broken.
Amnisure – If after the first three tests, your provider is still unsure whether or not your water is broken for sure, they may order an Amnisure test. It's a definitive test that will give you and your provider assurance that your water is or isn't broken.
Ultrasound – In addition to these tests, your provider might offer an ultrasound to check your fluid levels.
How Do You Know If Your Water Broke?
I hope that this post gave you a good idea about what to expect when your water breaks (or when you think your water has broken). It honestly is the thing that we see the most often in triage in labor and delivery.
Even if you have the slightest idea of what to expect and what to do, you're ahead of the curve.
Good luck, mama! Whether your water breaks in a slow trickle or a huge gush, you're labor is going to be beautiful.
Do you still have questions related to "is my water broken"? Leave them in the comments below!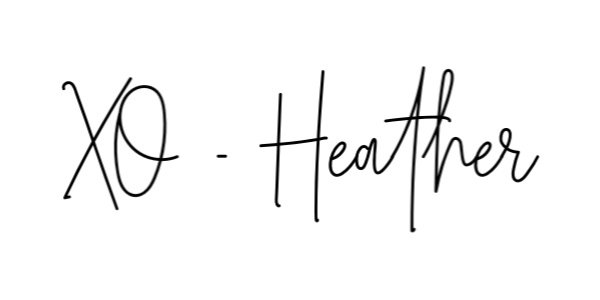 What To Read Next: